What Is ArcGIS?
Integrated collection of GIS software products; ArcGIS offers unique capabilities and flexible licensing for applying location-based analytics to your business practices. Gain greater insights using contextual tools to visualize and analyze your data. Collaborate and share via maps, apps, dashboards and reports.
Who Uses ArcGIS?
Web, on-prem and mobile solutions to help businesses with mapping, data management, predictive modeling, geocoding and more.
ArcGIS Details
ESRI
Founded in 1969
ArcGIS Details
ESRI
Founded in 1969
ArcGIS videos and images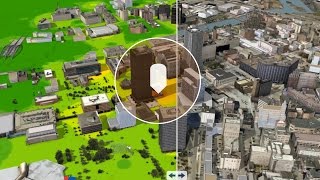 Compare ArcGIS with similar products
Starting price
N/A
N/A
N/A
N/A
ArcGIS deployment and support
Support
Email/Help Desk
FAQs/Forum
Knowledge Base Software
Phone Support
24/7 (Live rep)
Chat
Deployment
Cloud, SaaS, Web-based
Windows (Desktop)
Windows (On-Premise)
Linux (On-Premise)
Android (Mobile)
iPhone (Mobile)
iPad (Mobile)
Training Software
In Person
Live Online
Webinars
Documentation
Videos
Bintang H.
Graduate Trainee in Indonesia
Verified LinkedIn User
Mining & Metals, 501-1,000 Employees
Used the Software for: 2+ years
Alternatives Considered:
The Function and Facilty Tools of Arcgis
Comments: These software has allowed me to undestand the concept of geostatistical analysist.
And also these software has allowed me to achieve my degree in bachelor of mining engineering.Such help like layouting map, analysis out put contour and another geospatial analysis.
Pros:
Tool geostatistical, geospatial analysis
Cons:
There in few of module to learning tools
Brian H.
Assistant Utilities Director in US
Utilities, 11-50 Employees
Used the Software for: 2+ years
Utility mapping on both the desktop and mobile devices
Comments: Our mobile workforce has become significantly more efficient due to the ArcGIS platform and the systems that we have built upon its frameworks. ArcGIS has become a core piece of our business and our daily operations, and we continue to increase its use and integration with other systems.
Pros:
ArcGIS continues to evolve as a product as our needs grow as a customer. We are moving away from desktop-based GIS, with nearly all employees now using mobile devices as their primary tool to access our utility mapping data. ArcGIS Online has made this available, and we continue to grow our mobile offerings, though the AGOL platform still allows us numerous areas for us to continue to explore and utilize to improve our field workflows. Numerous samples, test applications, etc. are provided by ESRI to get you started, and since they're the industry leader, there are tons of real-world examples of the software in use that are available to the public.
Cons:
ArcGIS is an enormously complex software platform, with tons of automation and analysis tools available. However online documentation can be difficult to find, and is frequently written in ways that require an in-depth understanding of the systems. Prerequisite setup steps aren't always included in the documentation, instead it's often written with some assumptions in mind. Setups completed by other employees can be difficult to troubleshoot because of these assumptions in the documentation. The robustness of the platform can also lead to additional steps for end users, as they have to work through options that aren't relevent to them, but cannot be hidden from their view. One such example is just the login screen to the AGOL mobile apps causes our users frequent struggles as they can't remember the sequence of steps to get to the organization login. There should be increased administrator options available to simplify/restrict options available to the end user.
Yusuf Y.
Land and Water Officer in Italy
Government Relations, 5,001-10,000 Employees
Used the Software for: 2+ years
Best commercial GIS toolset but has performance, compatibility issues,falls short in geostatistics
Comments: We use ArcGIS as secondary software for the things that we cannot do with other software (better styling and data handling for certain formats)
Pros:
It has a tool for almost anything effective in handling of a large amount of vector data
Cons:
Expensive Interoperability issues Licensing approach (need to pay more for extensions) Tonnes of some bugs and issues with ArcGIS Pro
Nathan B.
Environmental Scientist in US
Verified LinkedIn User
Civil Engineering, 51-200 Employees
Used the Software for: 2+ years
I use ArcMap daily, but almost always as a part of my overall editing flow.
Comments: It makes the start of very pretty maps, sometimes. I almost always generate base layers here, and then export them into illustrator/photoshop to do actual final renders.
Pros:
The styling guides are better than any other options out there - once you can learn to navigate the byzantine menus. I've used QGIS, Globalmapper, AutoCad, and Microstation, and maps just look better in ArcMap than in any others -it's made for creating display mapping. I know that there are other programmatic things you can do, but for my workflow, I use it almost exclusively for building maps for display.
Cons:
The menus are silly that you have to go that far down a rabbit hole, processing is a nightmare (especially with messy geometry), and I used to (until I quit trying altogether) find myself trying a processing task in ArcMap, watching it fail, and then trying it again in GlobalMapper/QGIS and it would do fine. Processing is a very weak point in ArcMap, at least from my perspective.
Stephen N.
Research Assistant in Germany
Research, 501-1,000 Employees
Used the Software for: 2+ years
Spatial Statistics made easy
Comments: Overall, it is a perfect tool for spatial analysis. I used it in all my papers since my research direction involves spatial analysis.
Pros:
Once you get the hang of it, you can do virtually everything a mapper can do. The tools are not complicated and can be used with little supervision. The module builder is my favorite as it has saved me tons of hours. All my repetitive tasks were programmed with the module builder. This afforded me the opportunity to multitask.
Cons:
The only cons is that when parcels are too small, the software is unable to calculate the area and other statistics.