What Is ActiveCampaign?
ActiveCampaign's category-defining customer experience automation platform (CXA) helps over 130,000 businesses in 170 countries meaningfully engage with their customers. The platform gives businesses of all sizes access to 500+ pre-built automations that combine email marketing, marketing automation and CRM for powerful segmentation and personalization across social, email, messaging, chat and text. Over 75% of ActiveCampaign's customers use its 850+ integrations.
Who Uses ActiveCampaign?
ActiveCampaign is ideally suited for small and medium sized businesses looking to grow through better customer relationships.
Where can ActiveCampaign be deployed?
Cloud, SaaS, Web-based, Mac (Desktop), Windows (Desktop), Linux (Desktop), Android (Mobile), iPhone (Mobile), iPad (Mobile)
About the vendor
ActiveCampaign
Founded in 2003
Phone Support
Chat
About the vendor
ActiveCampaign
Founded in 2003
Phone Support
Chat
ActiveCampaign videos and images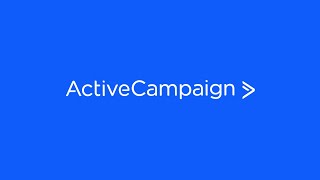 Compare ActiveCampaign with similar products
Features of ActiveCampaign
AB Testing
Activity Dashboard
Alerts/Notifications
Auto-Responders
CAN SPAM Compliance
CRM Software
Calendar/Reminder System
Campaign Analytics
Campaign Management Software
Campaign Planning
Client Management
Contact Database
Contact Management Software
Content Management System (CMS) Software
Customer Database
Customizable Fields
Data Import/Export
Drip Campaigns
Email Campaign Management
Email Management Software
Email Marketing Software
Email Tracking Software
Event Triggered Actions
For Small Businesses
For Startups
For iPad Devices
Interaction Tracking
Landing Pages/Web Forms
Lead Capture Software
Lead Management Software
Lead Qualification
Lead Segmentation
List Management
Marketing Automation Software
Mobile Access
Mobile Optimized Emails
Multi-Channel Marketing
Performance Metrics
ROI Tracking
Reporting/Analytics
Sales Activity Management
Sales Pipeline Management
Search/Filter
Segmentation
Social Marketing
Social Media Integration
Subscriber Management
Tagging
Task Management Software
Template Management
Third Party Integrations
WYSIWYG Editor
Website Visitor Tracking
Workflow Management Software
ActiveCampaign Alternatives
Reviews of ActiveCampaign
Elizabeth H.
Owner/Founder in US
Verified LinkedIn User
Health, Wellness & Fitness, 2-10 Employees
Used the Software for: 2+ years
Has all the bells and whistles
Pros:
Active Campaign integrates with everything making it super easy to pick up new apps knowing I don't need to use a go-between. It has everything I need, email marketing, campaigns, automation, and great analytics. It's easy to look up my contacts and see their journey. There's lots of detail and I appreciate that. Customer Care is great. I've used a lot of different systems and Active Campaign has a lot of bang for your buck.
Cons:
It can be confusing especially when making if/then funnels, the terminology isn't intuitive. And it can be glitchy sometimes. Other than that, it works. It can be expensive, but if you want to scale then you need a good email/contact management app, and this fits the bill.
E-Learning, 2-10 Employees
Used the Software for: 2+ years
Alternatives Considered:
Our company depend on this software
Comments: I have been using ActiveCampaign daily for several years now and it is one of the most important software we use in our company. I am very satisfied and I plan on using it for as long I stay in business.
Pros:
Very easy and user-friendly. It doesn't require a huge and steep learning curve
Cons:
Customer support used to be better before they grew up as big as they are now. They had a live chat on every page and we could ask for help easily. Now, the customer support page is buried and hidden and not as easy to find.
Jason M.
Chief Revenue Officer in US
Computer Software, 11-50 Employees
Used the Software for: 6-12 months
Source: SoftwareAdvice
Automation Broken & Engineers Won't Fix
Comments: Kind & courteous customer service & onboarding. The chat support is decent & you can get questions answered; however, their achilles heel is that their engineering team is apparently asleep behind the wheel and not only don't fix bugs, but provide zero communication about fixing them.
Pros:
Pricing is excellent, features are great, and the company is very innovative. Overall, I really want the relationship to work.
Cons:
The automation rules are broken. I have one field update automation that's broken. It's a simple field update automation that says if field a) value = x, then update field b) to be y; however, it's broken and I sent ticket to them ~4 weeks ago. More importantly, I spend all of this time doing the implementation. ,and now their automated emails will not trigger. I submitted tickets to engineering ~4 weeks ago, and I haven't heard a PEEP from the engineers. They are kind enough to give me June service free; however, that's not what i actually want. I want the software to work so that all of the 100+ hours of time I've invested in building landing pages, automations, data imports, etc, can actually be realized.
Verified Reviewer
Director in Spain
Verified LinkedIn User
Marketing & Advertising, 11-50 Employees
Used the Software for: 2+ years
Alternatives Considered:
Active Campaign: Very good CRM on a budget
Comments: I totally recommend AC. There may be better options there like Hubspot, but AC is at a fraction of the cost and I think it covers most of what you could need as a small-medium company.
Pros:
AC is a great solution, full of features that should be enough to cover Basic-To-Medium needs. It's very easy to use and the price is perfect for what you receive. Support is also great.
Cons:
The reporting side of things is a bit limited, I miss better tools to report on what's going on in terms of campaign activations or simply status on deals and contacts.
Arts & Crafts, Self Employed
Used the Software for: 6-12 months
Alternatives Considered:
Active Campaign
Comments: I had tried using several other free email services in the past. Getting people to actually sign up was nearly impossible, even offering discounts and more, hardly anyone ever clicked "subscribe"- Active campaign allowed me to create a pop up window integrated with my website design, that will only pop up once on the main page for first time viewers (or until the cache is cleared). I also created a secondary sign up page where people can go to sign up if they missed the pop-up. This has taken me to large numbers of sign-ups, plus allowed me a way to integrate a 10% off coupon for subscribers after their email was confirmed. This has lead to numerous coupon uses of that 10% off in my store, proving the use of the pop up and offer. I send out monthly emails, keeping my subscribers informed and up to date on what is going on, increasing regular visits to my site and bumping regular sales. The email system is very easy to use.
Pros:
The sole reason I decided to start a free trial with this software was because of the complete customization allowed for your email sign-ups and pop-up windows. No one likes to click though email sign-ups that look out of place or run by a 3rd party. With this I could create a system that blended seamlessly with my current website, allowing everything to look 100% integrated into the site itself.
Cons:
So far the system has more functionalities than I will likely ever use. However, this is not a 'dislike'. While there are many functions I don't currently need (or understand) there may be a day that I use them, and there are several tutorials and documents available to help me understand these other features. Nothing about the system so far could qualify as something I dislike.