What Is Smartsheet?
Smartsheet, an online work execution platform, empowers organizations to plan, track, automate, and report on work. Over 80,000 brands rely on Smartsheet for project and work management because of its easy-to-use interface, real-time gantt charts and dashboards, and work automation features.
*2018 Awards: Named a Leader in Enterprise Collaborative Work Management by Forrester Research, Selected to Deloittes Fast 500 List, Recognized for Technology Innovation & Vision by 451 Research
Who Uses Smartsheet?
Smartsheet's intuitive online project management app is used broadly across organizations to track and manage diverse types of work for teams large and small, from enterprise companies to SMB's.
Where can Smartsheet be deployed?
Cloud, SaaS, Web-based, Android (Mobile), iPhone (Mobile), iPad (Mobile)
About the vendor
Smartsheet
Located in Denver, US
Founded in 2012
Phone Support
Chat
About the vendor
Smartsheet
Located in Denver, US
Founded in 2012
Phone Support
Chat
Smartsheet videos and images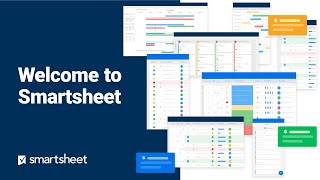 Compare Smartsheet with similar products
Features of Smartsheet
API
Access Controls/Permissions
Activity Dashboard
Activity Planning
Activity Tracking
Ad hoc Reporting
Agile Methodologies
Alerts/Notifications
Analytics
Approval Process Control
Approval Workflow
Asset Tracking Software
Assignment Management
Audit Trail
Availability Management
Backlog Management
Bar Chart
Bid Management
Billing & Invoicing
Brainstorming
Brand Management Software
Budget Management
Budgeting/Forecasting
Business Process Automation
CRM Software
Calendar Management
Campaign Management Software
Campaign Planning
Capacity Management
Change Management Software
Change Order Management
Channel Management Software
Claims Management Software
Client Management
Client Portal
Collaboration Tools
Color Codes/Icons
Commenting/Notes
Committee Management
Communication Management
Compliance Tracking
Contact Database
Contact Management Software
Content Management System (CMS) Software
Contract/License Management
Contractor Management Software
Cost-to-Completion Tracking
Create Subtasks
Customizable Dashboard
Customizable Templates
Dashboard Software
Data Connectors
Data Import/Export
Data Tabulation
Data Visualization Software
Dependency Tracking
Digital Asset Management Software
Discussions / Forums
Document Management Software
Document Review
Document Storage
Drag & Drop
EMR/EHR
Electronic Data Capture Software
Email Management Software
Email Reminders
Employee Management
Equipment Tracking
Expense Tracking
Expiration Management
File Management
File Sharing Software
File Storage
Financial Management Software
For AEC Industry
For IT Project Management
Forms Automation Software
Forms Creation & Design
Forms Management
Functions/Calculations
Gantt/Timeline View
Goal Setting / Tracking
HIPAA Compliant
Idea Management Software
Inventory Management Software
Issue Management
Job Scheduling
KPI Monitoring
Kanban Board
Lead Management Software
License Verification
Marketing Calendar
Media Planning
Milestone Tracking
Mobile Access
Multi-Campaign
Online Applications
Patient Management Software
Patient Records Management
Payroll Management
Percent-Complete Tracking
Permit Management
Physician Management
Portfolio Management
Preventive Maintenance Software
Prioritization
Process Modeling & Designing
Product Lifecycle Management Software
Product Roadmapping
Progress Tracking
Project Management Software
Project Planning Software
Project Planning/Scheduling
Project Scheduling
Project Tracking Software
Quotes/Estimates
RFI & Submittals
ROI Tracking
Real Time Notifications
Real-time Updates
Recurring Tasks
Reminders
Remote Access/Control
Reporting/Analytics
Reporting/Project Tracking
Requirements Management Software
Residential
Resource Management Software
Resource Scheduling
Risk Management Software
Roadmapping
Rules-Based Workflow
Scheduling Software
Search/Filter
Secure Data Storage
Service History
Single Page View
Skills Tracking
Spend Management Software
Staff Calendar
Status Tracking
Strategic Planning Software
Surveys & Feedback
Task Editing/Updating
Task Management Software
Task Progress Tracking
Task Scheduling
Task Tagging
Team Management Software
Technician Management
Template Management
Templates
Third Party Integrations
Third-Party Integration
Time & Expense Tracking
Time Tracking Software
Version Control
Visual Workflow Management
Visualization
Web Forms
Widgets
Workflow Configuration
Workflow Management Software
Esther
Sales Administrative Assistant in US
Verified LinkedIn User
Business Supplies & Equipment, 1,001-5,000 Employees
Used the Software for: 6-12 months
A powerful platform for collaboration.
Comments: Smartsheet allows you to manage and automate work, share and collaborate together, it has everything; extensive options for different purposes, it is reliable and robust.
Pros:
Smartsheet has a responsive, intelligent, highly customizable and intuitive system; so short and long term projects are executed smoothly and orderly. Collaboration between calendars and timelines are always aligned and workloads are fairly balanced across teams. Problems such as excessive data copying, lack of consistency and alignment between teams, threatened privacy, among other important issues, have been minimized with the use of Smartsheet.
Cons:
It is not easy to use at first, other similar tools are more user friendly, so people who even have a hard time using Excel will have a long learning curve with Smartsheet.
Andy
Technology Planning for Transport Networks in Mexico
Verified LinkedIn User
Telecommunications, 10,000+ Employees
Used the Software for: 1+ year
Alternatives Considered:
A must-have tool for project management!
Comments: By being able to check the progress of tasks in detail (confirmation of delays), it was possible to allocate human resources optimally. In a project with a fixed release schedule, it is necessary to move forward efficiently, so I am very grateful to be able to understand this. A convenient editing function that allows multiple people to edit at the same time online and a free sharing setup with no limit to the number of people. A Gantt chart can be created intuitively.
Pros:
It is mainly used for the management of projects that occur frequently in the company. The main tasks of each project and the secondary tasks linked to them can be managed in detail and in a visual and easy-to-understand way, which is useful to understand the progress and bottlenecks of the project. It is nice to see alerts for overdue tasks.Additionally, a lot of templates are available that can be used for any project, which is very helpful.
Cons:
The templates are perfect, but there were many times when I hesitated because I often wondered which template to use in the first place. I thought it would be nice to have a feature that would recommend this template for such a project.
Verified Reviewer
Service Operations Specialist in Canada
Verified LinkedIn User
Outsourcing/Offshoring, 5,001-10,000 Employees
Used the Software for: 2+ years
Cool tool for collaborative work
Pros:
it makes collaborative editing and tracking, with rules/alerts very easy
Cons:
managing the various rules for email delivery notifications
Jessica
Game Programmer in US
Verified LinkedIn User
Computer Software, 201-500 Employees
Used the Software for: 2+ years
It's simple to monitor progress and simultaneously work on a project
Comments: Implementation and usability simplicity. Tasks can be scheduled and rescheduled. Organization of teams at one place. Achieving the best possible results as a team. Instant messaging and online talking through the internet. Project budgeting and planning capabilities. Plugins and configurations are easy to use.
Pros:
This app's ease of use and ability to manage projects and send updates are fantastic. Easily adjustable and a lifesaver when it comes to streamlining the way work gets done and keeping track of individual tasks. It is a more business-oriented variant of the other spreadsheet applications. Templates might also be useful.
Cons:
My wish is that reminders and automatic emails based on task management/workflow would be sent. It has been a while since I used this, so things may have changed. This would be a significant advancement in the software's capabilities.
Swati
Self-Employed in India
Computer Software, Self Employed
Used the Software for: 6-12 months
Smartsheet Your Next Level Spreadsheet!
Comments: I will consider myself as one of the satisfied user of Smartsheet.I have used this software for small as well as huge projects and it came handy in both. But I would recommended that you can have another software if you are going for small projects and the budget is not so high because this platform is quite expensive and complicated in comparison to other Spreadsheet software available in the market.But if you are dealing with a bulky projects and team members are more than three then definitely use this software as your work will becomes very easy ,it will also help you to save a good amount of time and effort.
Pros:
Smart sheet is so far one of the best spreadsheet software that I have came across for project management. The best thing about Smartsheet is it's data View structure and ease of use. It's easy to create tasks in your project ;you can definitely edit, delete or update your main Tasks and subtasks without any inconvenience and to track the whole status of the project you can just have a view of the dashboard . You can also combine any number of spreadsheet so, that when you share your work with your team decisions making for that project becomes easy. Adding Automations to any sheet in Smartsheet is very easy and definitely time saving, there are some common suggestions in the automation menu but you can definitely create your own workflow with ease.
Cons:
With Smartsheet my overall experience was really good I was able to deliver my projects on time and maintained to have a good growth but everything is not so great about it and the first thing is the cost that I had to bear for using some of the important tools present within Smartsheet Like if you are working on multiple projects it's expensive.As well as there are numerous tools which are quite complicated to learn so, for a beginner it's quite time taking.