What Is Salesforce Sales Cloud?
Drive growth with Sales Cloud 360, the best-in-class sales solution that has helped power the world's best sales teams on the world's #1 CRM platform. Firms of all sizes, industries, and geographies, realize value faster with Sales Cloud 360. Increase rep productivity with data driven selling by quickly deploying industry-specific apps and best practice processes. You also get access to 150,000+ sales organizations and a 2 million user-strong community that are passionate about sales growth.
Who Uses Salesforce Sales Cloud?
With Salesforce's multi-tenant cloud computing model we can serve the needs of companies of all sizes, in any industry. Our customers benefit from a shared main framework, while maintaining privacy.
Salesforce Sales Cloud Details
Salesforce
Founded in 2003
Salesforce Sales Cloud Details
Salesforce
Founded in 2003
Salesforce Sales Cloud videos and images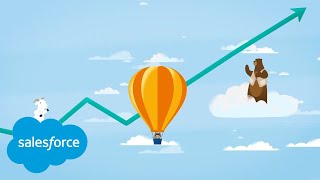 Compare Salesforce Sales Cloud with similar products
Starting price
N/A
US$50.00/month
US$50.00/month
US$20.00/month
Salesforce Sales Cloud deployment and support
Support
Email/Help Desk
FAQs/Forum
Knowledge Base Software
Phone Support
Chat
Deployment
Cloud, SaaS, Web-based
Android (Mobile)
iPhone (Mobile)
iPad (Mobile)
Training Software
In Person
Live Online
Webinars
Documentation
Videos
Salesforce Sales Cloud Features
Huw W.
Account Manager in Ireland
Verified LinkedIn User
Computer Hardware, 10,000+ Employees
Used the Software for: 1+ year
Alternatives Considered:
Salesforce CRM Review - Daily user
Comments: My overall experience using Salesforce has been good. I've used the application for 19 months and I'd say it took at least 3 months to get familiar with the tool. I work for an organisation of +180k and the tool is used widely across the business, which is a testament to its reliability and scalability. For smaller organisations, there is likely to be less complexity involved, as there will be less integration required with other applications - which Salesforce does incredibly well. To summarise, I'd say to prospective adopters of Salesforce, expect to invest some time in training new users of the tool but its remarkable functionality and capabilities far outweigh this ramp-up period.
Pros:
-Highly customisable with deep and wide integration with my organisations SaaS or natively developed applications. -Allows you to produce very detailed reports to track my own activity and history. Which can also be used by management to track team progress and activity. -A customisable dashboard that allows frequently uses tabs to be populated to a "bookmarks bar" which allows for faster navigation. -Great search feature that allows for search across the entire CRM database.
Cons:
-Due to its high functionality and range of options it can be overbearing to use at times. -Requires internet connection which means there is occasional latency and is not accessible at all times. -Visually, it's not the most appealing tool that I've ever used. -Steep learning curve for those that have not used it before, but then that goes for most CRM tools.
Eric r B.
Chief Product Officer in US
Verified LinkedIn User
Computer Software, 2-10 Employees
Used the Software for: 2+ years
Alternatives Considered:
Salesforce is the best CRM if money is no issue and you customize it to your needs
Comments: SFS was a great solution for a company I worked for because I was able to spend the time to configure for optimal use. By understand the needs of the sales team, support team, and even our engineers who had minimal interaction with SFS, I was able to achieve a lot. I never got us into internal messaging, but I did improve our lead capture and qualification process with SFS.
Pros:
SFS is a very powerful piece of software that is a dream if you take the the time to configure it and a nightmare if you don't. Those who fail with SFS are the people who think it's a turnkey solution that you can just buy and start using. Nope. You need to configure the heck out of it to suit your needs. If you take it seriously, capture workflows and goals for your team well, and take the time to set it up, you will be very happy with this solution. It doesn't need to take years, but it does take dedicated time.
Cons:
The pricing is high. Social media tools for the application are pretty weak. Plus, out of the box, it's overwhelming and just not usable.
Gaurav K.
Project Manager in India
Food & Beverages, 10,000+ Employees
Used the Software for: 2+ years
Alternatives Considered:
Great product but bad execution and implementation from implementation partner
Comments: Overall we had an average experience, though It helped in managing our sales and account well but did dent our budget a little with lengthy implementation and sheer incapability of implementation partner
Pros:
Sales management features are good good tracing and notifications account management geolocation integration Integration with SAP User Community Easy to Use APIs
Cons:
Customer Service third party vendor implementation Overall Cost Switching cost Salesforce ecosystem has to be there to get better insights Customer reports , except Einstein
Media Production
Used the Software for: 1-5 months
Source: SoftwareAdvice
Salesforce: Helps Improve Internal Communications/External Customer X
Pros:
I have been using, recommending and adopting salesforce.com for my sales teams for ten years in several different digital technology, media and advertising organizations. I can say unequivocally that the CRM software has evolved from being a supplement and "nice to have" to a must buy and necessary and vital tool for doing business. The key to any business solutions and software product is getting the team to adopt and use it. Training and practice is essential. Its like your golf game, the more you practice the better your score or working out, no pain, no gain. I like the social media and conversational abilities you can have with sales team; the app is excellent for quick reviews and checking on status of pending, pitches and prospects; the flexibility and customization options based o salesperson, account, deal size, industry vertical. In one organization we adopted it for internal sales data use and tracking and also incorporated product data about our partners, customers, audience metrics and analytics and distribution platform.
Cons:
Depending on the level of subscription, will also vary with the amount of personalized training you receive. I would also say there needs to be more attention and customization devoted to industry verticals that contain many nuances regarding customer segments and rev streams. This includes the advertising and digital sales industries where there are multiple customer touchpoints and rev streams including agencies, direct to client, programmatic, 3rd party vendors, ad tech partners etc. I also think saleforce.com needs to develop more compatible software and training that integrates salesforce,com into other software linked to finance, accounting etc.
Verified Reviewer
Marketing in Spain
Verified LinkedIn User
E-Learning, 51-200 Employees
Used the Software for: 2+ years
Alternatives Considered:
Un CRM completo pero muy complejo
Comments: Es un CRM que puede hacer casi cualquier cosa, pero que requiere de un equipo de desarrolladores para poder alcanzar su máximo nivel. Además, el soporte no es muy bueno, y en ocasiones, ofrece respuestas vanas y que no aplican a lo que se pregunta.
Pros:
El CRM por excelencia. Es innegable que como software para el seguimiento de ventas es el más potente. Además permite hacer casi cualquier cosa y es 100% customizable a la necesidad de cualquier empresa sea cual sea su modelo de negocio.
Cons:
Pero uno de los mayores inconvenientes de este software es su complejidad. Es necesario un buen equipo de desarrollo no solo para ponerlo en marcha, si no, para continuar sacándole partido a largo plazo.