What Is SigniFlow?
SigniFlow is an easy-to-use advanced eSign document workflow solution that offers a legally compliant PDF-based alternative to wet-ink signatures.
It can be deployed on-premise, or you can use any of our 8 global data centres, for compliance with international privacy & eSignature laws, such as eIDAS & GDPR.
SigniFlow is the only eSign solution with a document upload & storage portal that gives the user full control over user access.
There's no need to pay what our competitors charge.
Who Uses SigniFlow?
SigniFlow serves businesses of all sizes in Banking, Insurance, Healthcare, Financial Services, Public Sector and Legal industries. Ideal for Finance, Procurement, Sales, HR and Legal departments.
Where can SigniFlow be deployed?
Cloud, SaaS, Web-based, Windows (On-Premise)
About the vendor
SigniFlow
Founded in 1999
Phone Support
24/7 (Live rep)
Chat
About the vendor
SigniFlow
Founded in 1999
Phone Support
24/7 (Live rep)
Chat
SigniFlow videos and images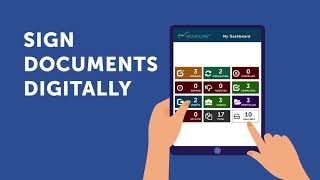 Compare SigniFlow with similar products
Features of SigniFlow
Access Controls/Permissions
Archiving & Retention
Audit Trail
Authentication Software
Collaboration Tools
Compliance Tracking
Customizable Templates
Data Security
Document Capture
Document Classification
Document Storage
Electronic Signature
File Conversion
File Sharing Software
Full Text Search
Mobile Signature Capture
Multi-Party Signing
Optical Character Recognition
Reminders
Version Control
Lehlohonolo joshua M.
Senior Manager:BPM in South Africa
Banking, 501-1,000 Employees
Used the Software for: 2+ years
Alternatives Considered:
The best digital signature to use
Comments: We currently are happy with address verification and digital signature. we intend to spread the use to customer signature and location verification. the business features are so good as you are able to search for directors using a cellphone and to obtain company registration details. the speed of obtaining this information is very good.
Pros:
Although we are using Signiflow products, the digital signature was the best in the market, easy to implement as it is web based and easy to use.
Cons:
We currently have not use most of the features available on the tool, we only use digital signature and address verification. We intend to use business verification soon to obtain CIPC business records and directors.
Corne B.
Marketing and QMS Manager in South Africa
Human Resources, 51-200 Employees
Used the Software for: 6-12 months
Not sure what you want me to complete here
Comments: Looking at alternatives.
Pros:
The digital trail of the documents. The OTP which means that there is an authentication process.
Cons:
Very bad follow up and feedback re issues.
Mark C.
Managing Director in UK
Utilities, 2-10 Employees
Used the Software for: 1+ year
Alternatives Considered:
Highly Recomended
Comments: I really like it and would highly recommend. As mentioned above, I think the marketing and brand recognition needs to be improved, but as a product, I think it works well for us as a business.
Pros:
Fairly easy to use - the interface could perhaps be a little better. Love the high-grade security involved.
Cons:
The interface isn't natural and can be a bit cumbersome and the sharing with other team members falls into the same area. The biggest difficulty for us is the lack of recognition with some companies, unfortunately, the use of DocuSign is prevalent and people seem to instantly trust that - even though the security isn't necessarily as good.
Emile W.
Director in South Africa
Financial Services Software, 2-10 Employees
Used the Software for: 1+ year
Alternatives Considered:
Good, but sometimes rather slow
Comments: It provides a much better alternative to "print-sign-scan". It is both more convenient and more secure.
Pros:
The fact that a new user is authenticated via cell phone number is a plus. Many other options simply use email address which makes it easier for a user to deny signing a document
Cons:
It is often quite slow, taking very long to load even on fast connections. Some document recipients have said that they were unable to register.
Tony B.
Director in Australia
Information Technology & Services, 2-10 Employees
Used the Software for: 1+ year
Digital Signature review
Comments: Great on all levels of procurement, support and training
Pros:
The platform is easy to use and the support is second to none. The platform is more comprehensive than the competitive offering.
Cons:
Sometimes the pricing can be prohibitive when new businesses are just entering the electronic signature marketplace.
SigniFlow Response
4 months ago
Dear Tony. We appreciate your feedback and we're happy to hear you made the decision to move to SigniFlow! Regards Greig