What Is Freshsales?
Freshsales is a full-fledged sales force automation solution for sales teams. It provides everything a salesperson needs to— attract quality leads, engage in contextual conversations, drive deals with AI-powered insights, and nurture customer relationships. With built-in email, phone, chat, and telephony, Freshsales empowers sales teams with more time for selling by automating the sales process and increases efficiency and productivity in their daily activities.
Who Uses Freshsales?
With Freshsales, businesses can attract, engage, close, and nurture their leads. You no longer need a CRM and five other tools to run your business, just Freshsales CRM will do.
Where can Freshsales be deployed?
Cloud, SaaS, Web-based, Mac (Desktop), Windows (Desktop), Android (Mobile), iPhone (Mobile), iPad (Mobile)
About the vendor
by Freshworks
Located in San Mateo, US
Founded in 2011
Phone Support
24/7 (Live rep)
Freshsales pricing
Starting Price:
US$15.00/month
Yes, has free trial
Yes, has free version
Freshsales has a free version and offers a free trial. Freshsales paid version starts at US$15.00/month.
About the vendor
by Freshworks
Located in San Mateo, US
Founded in 2011
Phone Support
24/7 (Live rep)
Freshsales videos and images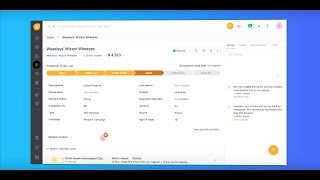 Paul W.
Chief Product Officer in US
Verified LinkedIn User
Computer Software, 11-50 Employees
Used the Software for: 1-5 months
Easy On-boarding and setup, fast support.
Comments: We are too big for no CRM, but not big enough to implement the HubSpot and Salesforce CRMs of the world. We tried those systems thinking we needed the features and analytics, but the spend and maintenance for those systems are too high. Freshsales, Freshchat, Freshmarketer, and Freshdesk make a seriously well priced and powerful system full of the features we need to produce the right results: a good relationship with customers. Freshworks' customer support is spot on. It seems no matter when I need help, they are less than a few minutes away from a solution. Freshchat is king! We've even deployed the same support structure on our website (Freshchat) and lead conversion has gone way up. It's nice to see a company have a product good enough to use themselves. I also like being able to achieve the same results for my customers as Freshworks has produced for me without major customizations.
Pros:
I was able to easily onboard to this system from HubSpot and Salesforce. The features in this system just work. You expect something to operate in a certain way, and it just does. Mail and calendar integration is super easy and really responsive (I used both Office 365 and Google Integrations). I love email templates and sales campaigns, they make working with leads and customers so easy and are not tucked away in a corner. The UX is much better than other systems, which means my salespeople are more likely to use the CRM, which is a common problem among salespeople and CRM systems.
Cons:
Freshsales is right-sized for us. It lacks some of the major enterprise features of bigger CRMs; but you also don't have too many features right in the way. I'm not a huge fan of the field paging UI on leads, deals, accounts, and contacts. I get that it makes it so you can add as many fields as you want, but it's hard to navigate and organize my screen just the way I like it. I resorted to using the Edit screen though, even when I'm not necessarily editing and that works well enough. Definitely not a big deal compare to all the other awesome features.
Cosmetics, 11-50 Employees
Used the Software for: 1+ year
If you need support, look elsewhere
Comments: In short, great app, downright awful support
Pros:
Very easy to implement. Currently using FreshDesk, FreshCaller and FreshSales. Great integration, everything works quite well.
Cons:
As long as you do not need help from support, you will be fine. Every time that I have contacted support it has unfortunately been very disappointing. Even the most basic question takes an inordinate amount of time to get a response. Specific issue on FreshSales that really was upsetting is the fact that under the blossom program you get absolutely no reports, zero. In order to get reports, you have to upgrade to the next plan, garden. The cost per user goes from 12 to 25 if you are on the annual plan or 19 to 35 on the monthly. It is really hard to understand why some basic reports were not provided under blossom. Yes, the app is very useable without reports, however, if you are managing a team and want to see data across users, forget about it. You need reports and will have to migrate to the next plan up. I cannot stress the fact that the support is just simply not a priority for them, for many folks this could be the one thing that will force them to look somewhere else.
Alternatives Considered: Salesforce Platform and Zendesk
Reasons for Switching to Freshsales: The decision to choose freshworks was for most part driving by cost.
G n v ravi T.
Product Manager in India
Verified LinkedIn User
Information Technology & Services, 201-500 Employees
Used the Software for: 1-5 months
Make the lead management super easy
Pros:
1. It has super customizable integrations for the leads from various sources 2. Got a great discount from the Sales team 3. Flexible payment options 4. Super understandable flow and can define our own flows based on our need
Cons:
1. IVR and SMS gateway is not integrated with Indian based providers 2. Have a few customizations limitation which has to be worked upon 3. Ability to pay in INR as they have only accepted USD payments for bank transfer
Alternatives Considered: Zoho CRM and HubSpot CRM
Financial Services Software, 11-50 Employees
Used the Software for: 2+ years
Terrible stay away from FreshSales
Comments: Was offered direct support from [SENSITIVE CONTENT] he is now a noshow and will not respond. Promised an upgrade conversion two months ago and still no conversion. Told them of the problems they promised fixes and help but would take them 2 months to get to it. No updates non responsive to e-mails.
Pros:
Price was supposed to be easier to use for our sales staff. We have given a couple of years made due do to price but this is now costing us money and not helping sales.
Cons:
Usefulness, No support that is helpful, reports are useless and having to change leads to contacts to get reports of sales. Waste of money and time
Maciej N.
Freelance Credit Analyst in Poland
Financial Services Software, Self Employed
Used the Software for: 6-12 months
Great CRM for consultants
Comments: I work alone. The software meets my needs in helping me track my interactions with clients. What I like in CRM system is it's easily accessible and quick to use, so it does not slow down my activities, but instead helps me be more productive. And Freshsales does that well.
Pros:
Pros are numerous - some of them are: - integration with Exchange/Gmail for incoming mail, - many plans to choose from, - intuitive and easy to use, - good mobile app
Cons:
Not many cons. What I would like to see are more integrations. Especially with Todoist for task management (I've been using Todoist for years and it is just the most accessible and streamlined task management app). I am not fully happy with the quality of customer support, but maybe I was just a bad luck (I do not require much of support).
Alternatives Considered: Insightly and Capsule
Reasons for Choosing Freshsales: Accelo radically raised ther prices.
Switched From: Accelo
Reasons for Switching to Freshsales: It integrates fully with MS Exchange, while the other ones don't.