What Is BigChange?
BigChange Job Management Platform is built to help every field service business grow stronger. Integrating customer relationship management (CRM), job scheduling, live tracking, field resource management, financial management & business intelligence into one simple to use and easy to integrate, cloud-based platform that any business with field workers can thrive from.
Who Uses BigChange?
BigChange is the complete Job Management Platform, helping building maintenance, construction, environmental and other field service companies grow stronger everyday.
Where can BigChange be deployed?
Cloud, SaaS, Web-based, Android (Mobile), iPhone (Mobile), iPad (Mobile)
About the vendor
BigChange
Located in Leeds, UK
Founded in 2013
Phone Support
24/7 (Live rep)
Chat
Countries available
Cyprus, France, New Zealand, United Kingdom, United States
About the vendor
BigChange
Located in Leeds, UK
Founded in 2013
Phone Support
24/7 (Live rep)
Chat
Countries available
Cyprus, France, New Zealand, United Kingdom, United States
BigChange videos and images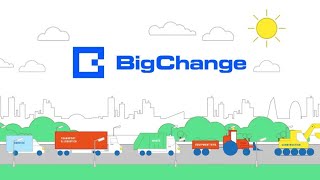 Compare BigChange with similar products
Features of BigChange
Accounting Integration
Activity Dashboard
Activity Tracking
Appointment Management
Asset Tracking Software
Automated Scheduling
Availability Management
Barcode / Ticket Scanning
Bid Management
Billing & Invoicing
Booking Management
Budgeting/Forecasting
CRM Software
Calendar Management
Client Management
Code Enforcement Software
Compliance Management
Compliance Tracking
Contact Database
Contract/License Management
Contractor Database
Contractor Management Software
Corrective and Preventive Actions (CAPA)
Cost Database
Cost Estimating
Customer Database
Customer History
Customer Management
Customer Portal
Customizable Templates
Delivery Tracking
Dispatch Management
Document Management Software
Document Storage
Driver Management
Electronic Payments
Electronic Signature
Employee Database
Employee Management
Employee Scheduling Software
Equipment Management
Equipment Tracking
Estimating
Expense Tracking
Facility Scheduling
Fixed Asset Management Software
Fleet Management Software
For Commercial and/or Industrial Electrical Contractors
For HVAC Companies
For Janitorial Services
For Locksmiths
For Mechanical Equipment
For Pest Control Companies
Fuel Management Software
GPS
Image Capture
Incident Management Software
Incident Reporting
Inspection Management
Interaction Tracking
Inventory Control Software
Inventory Management Software
Invoice Management
Job Costing Software
Job Management
Job Scheduling
Labor Forecasting
Live Driver Tracking
Location Tracking
Maintenance Management Software
Maintenance Scheduling
Messaging
Mobile Access
Mobile Alerts
Mobile App
Mobile Signature Capture
Multi-Location
Online Booking
Online Time Clock
Payment Collection in the Field
Payment Processing Software
Performance Metrics
Pest Activity Tracking
Predictive Maintenance
Preventive Maintenance Software
Project Tracking Software
Proof of Delivery
Purchase Order Management
Qualification Tracking
Quality Control Management
QuickBooks Integration
Quotes/Estimates
Real Time Notifications
Real-time Scheduling
Real-time Updates
Reminders
Report Templates
Reporting & Statistics
Reporting/Analytics
Route History
Routing
SMS Messaging
Safety Management Software
Scheduling Software
Self Service Portal
Service History
Skills Tracking
Space Management Software
Subcontractor Management
Surveys & Feedback
Task Management Software
Technician Management
Template Management
Third Party Integrations
Time & Attendance
Time & Expense Tracking
Time Off Management
Time Tracking Software
Timesheet Management
VIN Lookup
Vendor Management Software
Work Order Creation
Work Order Management
Colin
Director in UK
Verified LinkedIn User
Retail, 1,001-5,000 Employees
Used the Software for: 2+ years
Working with Big Change
Comments: See less, it's like the solution has integrated well and forms part of our day to day operating model.
Pros:
I think the best element of this product is that's it very versatile as it allows you to design it around your current operation. Also the team are constantly releasing useful updates, some of which make life a little easier and some offer productivity gains.
Cons:
There nothing really that's bad here, any elements that were hare to navigate are constantly being updated to make them as user friendly as possible.
BigChange Response
2 years ago
What a great review - we are thrilled to hear how pleased you are with your system and benefit from our regular new system updates. BigChange is indeed a very versatile system and we are happy to be part of your operating model. Thank you for choosing BigChange.
Construction, 11-50 Employees
Used the Software for: 2+ years
Alternatives Considered:
Big Change Revolutionised My Business
Comments: I have dealt with all levels withing the business and found 99% of the people amazing to deal with! They have guided, trained and been far more accommodating then any other mobile resource software provider out there.
Pros:
The facility to invoice live and make cash flow through the business improve.
Cons:
The schedule does not have dynamic scheduling
BigChange Response
3 years ago
Delighted to hear about your amazing experience with the BigChange system. We designed it to be 'Revolutionary' for everyone, for you the business owner, for your team for your customers and your cashflow. Nothing gives us more satisfaction than hearing great success stories like this. Thank you once again for taking the time to leave a review. All the best, Team BigChange
vicky
Office Manager in UK
Construction, 2-10 Employees
Used the Software for: 1-5 months
Big Change - Good System once you get the hang of it but hard to learn and quite time consuming.
Comments: I am feeling better about it now but initially this is very hard for anyone to set up within a business that has their own job that they also need to do. The short videos take forever as you need to rewatch, then you have your test and then you have to try and Implement what you have just watched. If you forget a part of it or it doesn't make sense you have to go back to the video again. Very Hard Work and Extremely time consuming. What would be better is that everything is set up in the back office by big change and then training is provided to the customer on how to use it.
Pros:
I like the Scheduling feature once the jobs are on. Very easy to schedule and reallocate jobs when you need to. I also like the Easy Views - This is one of the most helpful sections of the system.
Cons:
Having to create a Customer site (Child Company) for every new job you get and then creating a new job especially when you may never work at that site again. would be much easier quicker and convenient if you could free type the site address in. The training side of it I have to admit is awful. It has taken me so long to get where I am now and most of that has been my time sat playing around with the system - The training videos are too fast, it skips parts out or assumes you know where exactly you are meant to go on the system to do or find something, or it says this part will be covered in another module. A guide for logging a customer - Guide for Logging a Customer Site - A Guide for inputting a job - A Guide for raising an Invoice would be so much better than trying to watch a video take notes and then try and remember how to do it, Esp as customers are expected to input and set up everything virtually within the system. MAPS - It would be helpful if it would advise how many miles away the engineer is until he reaches his destination. JOBS / INVOICES - Once the Jobs or Invoices are complete you can't amend any of the details this is very annoying as you are having to duplicate everything and then save any pictures etc and worksheets and move them over to the next one. ALSO the description you type when raising the job. If you make a spelling mistake and the Job is complete you can't correct this field - This is then on the customers Invoice.
BigChange Response
6 days ago
Hi Vicky, Thank you so much for taking the time to leave a detailed review. I am glad that you are making use of BigChange and if you need any further help please let me know and I can have your designated Customer Success representative can help. Many thanks Ian Burgess Chief Customer Officer [email protected] 07879 698697
Construction, 51-200 Employees
Used the Software for: 6-12 months
Alternatives Considered:
Big Change but NOT a BIG IMPROVEMENT
Comments: Heavy sales pitch full of promises that failed to deliver as soon as we signed on the dotted line, you cannot believe the pressure that they put on you to get you locked in to a very long and expensive contract , I feel conned
Pros:
nothing that most other software can deliver
Cons:
Big Change, BIG promises that they fail to deliver, no help with transition from an existing system and no help at all (unless you pay extra of course) with the bespoke elements of the system that they claim during the sales and onboarding process will be no problem to integrate. As soon as you sign up and the pro-forma and direct debits have been arranged you struggle to hear from anyone. This system has cost my company a fortune and we are going back to our original system as its was far more user friendly and efficient, I will ask all of my staff members to provide an honest non -biased review of Big Change where it relates to their particular user experiences in their various roles, this has been a Big Mistake
BigChange Response
3 weeks ago
Hi Ricky, Thanks for taking the time to leave your review. Sorry that you felt that it was difficult to get set up and integrated smoothly into BigChange. I would be interested to hear more about your feedback and would be happy to discuss this further if you wish. Kind regards Ian Burgess Chief Customer Officer 07879 698697
Charlotte
Office Manager in UK
Medical Devices, 2-10 Employees
Used the Software for: 6-12 months
5* Customer Service
Comments: Big Change has allowed us to be more productive across the entire business. It has eliminated duplication of data management, individual staff productivity has improved greatly and problems solved a lot quicker than previous years.
Pros:
The diary management and easy to use job cards have proven successful in eliminating paper copies and has enabled us to become more sustainable and have less impact on the environment. The software itself is reliable and easy to execute to all staff and contractors.
Cons:
The search function can be slow and limiting. It is not the most intuitive.
BigChange Response
3 weeks ago
Hi Charlotte, Thank you for your feedback. It is great to see you getting such value from BigChange and that is it helping you to become more sustainable as a business. Please do continue to provide us feedback and this can be channelled through your allocated Customer Success Manager or the RoadCrew support team. Kind regards Ian Burgess Chief Customer Officer 07879 698697