What Is Employment Hero?
HR, Payroll and People Management, from anywhere. Connecting employers and employees in the new world of work. With native integration to XERO, MYOB & Keypay, you can streamline admin heavy tasks and spend more time on the things that are important to you.
Over 5,000 businesses use Employment Hero and together we collectively manage over 125,000 employees.
Who Uses Employment Hero?
Business Owners, HR Managers, Payroll Managers, People and Culture Managers, CEOs, GMs, Payroll, HR and Business Advisors
Employment Hero Details
Employment Hero
Founded in 2014
Employment Hero Details
Employment Hero
Founded in 2014
Employment Hero videos and images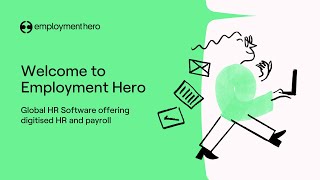 Compare Employment Hero with similar products
Starting price
A$7.00/month
N/A
N/A
N/A
Employment Hero deployment and support
Support
Email/Help Desk
FAQs/Forum
Knowledge Base Software
Phone Support
Chat
Deployment
Cloud, SaaS, Web-based
Mac (Desktop)
Windows (Desktop)
Android (Mobile)
iPhone (Mobile)
iPad (Mobile)
Training Software
Live Online
Webinars
Documentation
Videos
Kerry S.
Financial Controller in Australia
Verified LinkedIn User
Real Estate, 51-200 Employees
Used the Software for: 6-12 months
Love the platform, makes on boarding new employees a breeze.
Comments: Time - This software has saved my sanity in on boarding new employees and now we have over 100 staff its great that they can update their details themselves.
Pros:
Ease of use, great on boarding tool, cuts the contract time down considerably, Great task list features, good reporting functions as you can customize easily. Collates all the employee information meaning accounts aren't left to chase down these items from employees. The employees love the platform too as it has all their information for them in one place and they all love the Annual Leave function
Cons:
I would like to be able to assign certain sections to other employees - for example it would be good if the accounts staff could view "Employee Bank Details" without having access to any other information I would also like to be able to amend and upload (or delete) our own contracts rather than having to go through the support team every time - Support are great if I am not in a rush as it normally take 24-48 Hours to turn around, but if I just need to alter something quickly it would be nice to add and remove myself
Employment Hero Response
3 years ago
Hi Kerry, Thanks for giving Employment Hero such an amazing review! It's fantastic to see you're getting so much utility from the platform and that your employees love it too. I've passed your feedback on to our product team now, though it's great to see the support team gets your tick of approval! Thanks again, The Employment Hero Team
Deep S.
Finance Manager in Australia
Logistics & Supply Chain, 11-50 Employees
Used the Software for: 6-12 months
Alternatives Considered:
Employment Hero is Hero
Comments: My experience with EH has bee great and very satisfactory. I will recommend this software to anyone wanting to make a difference in Human Resources processes in their company
Pros:
Employment hero is user friendly and so easy to use. With the click of a button you can automate a variety of Human Resources and Payroll process within you company. The customisation and ready to use functionality of this software allows you to implement this internally without any need for third party specialist.
Cons:
Inability and restriction on scheduling report, announcement etc means you cannot customise this . It will be great if more research and development is done on scheduling reports, announcements etc .
Employment Hero Response
5 months ago
Hi Deep, Thank you for taking the time to share your experiences with Employment Hero with others. We're so happy to see that you've had such a positive experience with the platform and so user-friendly. Thank you also for sharing your feedback regarding scheduling reports and announcements. Employment Hero spent over $8 million on product development last year, so our platform is always adding more functionality to keep up with our customers' needs. I've passed your feedback on to our product team who will factor it into future development plans. Thank you again, Anna from Employment Hero
Daniel A.
Managing Director in Australia
Verified LinkedIn User
Information Technology & Services, 11-50 Employees
Used the Software for: 1+ year
Source: GetApp
Where's the support?
Comments: The biggest problem we have is with support. It is terrible. There is no ticketing (Or maybe we just aren't given our ticket details). Very slow responses or none at all after multiple contact attempts. This just isn't good enough when we are dealing with urgent platform based payrun issues. Also, there is no clear path to support from within the platform. You have to google it. Finally, there is no clear complaints process. Hence this review. Hope you guys at EH get in touch with me.
Pros:
Easy for staff to use and automates HR and payroll processes quite well.
Cons:
The interface has been updated (Modernised) but there is no benefit. A waste of time. The platform speed has slowed down since the upgrade and some important features don't work.
Employment Hero Response
last month
Hi Daniel, Thank you for taking the time to share your experience with Employment Hero. It's great to hear that your staff are finding the platform easy-to-use and it's helping automate processes. Thank you also for your feedback on our service delivery. I have passed this on to our team. Our customers are at the centre of everything we do and we are always looking for ways to improve customer experience. I can see that your enquiry has now been resolved, but if you need anything else please let us know at [email protected] Many thanks, Anna from Employment Hero
Kim M.
Business Development in Australia
Hospital & Health Care, 51-200 Employees
Used the Software for: 6-12 months
Source: SoftwareAdvice
Think twice.
Comments: If a seamless user experience and reliable software that's easy to use is important to you, do not choose Employment Hero. It has been working OK (just) since ironing out most of the problems but not work the time and money to get to this stage. The HR and Payroll software are clearly sold separately because the look and feel is different and you need to instruct managers to perform actions in one platform, despite being able to do it in another, causing confusion.
Pros:
The ability for employees to update their own personal information. Contract templates are helpful for those who don't have an internal legal or large HR department.
Cons:
The integration between the two products - HR and payroll is awful. They often don't communicate with each other seamlessly and you are required to learn by trial and error due to the poor deployment processes and cumbersome workflow regarding setup. Customer Service is helpful most of the time but you will be passed through numerous people who do not explain the fundamental use of all the features. Too much emphasis is on knowing the hundreds of pages of instructions and features. Timekeeping apps (Clock Me In/Workzone) are simply terrible.
Employment Hero Response
11 months ago
Hi Kim, Thank your for your feedback. We're sorry to hear that your experience with Employment Hero hasn't been as seamless as we'd like it to be. We'll be reaching out directly to reach a resolution and hope that we can get things back on track. Thank you again, Anna from Employment Hero
Brett S.
Technician in Australia
Retail, 51-200 Employees
Used the Software for: 6-12 months
Hero by name, hero by nature!!
Comments: The company I am employed by (Scooter Hut) use Employment Hero for rostering, staff communications, some* bonuses, documentation of employee certifications and much more. I am so thankful they do use it as it has made my life much easier and more rewarding from an employee point of view.
Pros:
Employment hero has made my transition into a new company so simple and pain free over the last 9 months. It has taken the pain out of scheduling and I have received some great discounts and benefits. Every company would be better off with this setup. My Hero!!
Cons:
I would love the opportunity to have a dual benefit system where I could earn Hero Bucks whenever I have spare time by completing data entry or other online tasks. An added bonus would be to be rated on your performance of said tasks and get bonuses for great ratings. This would not only reward any quality content being delivered but ensure whoever is getting the tasks completed can be assured of the best possible quality completions.
Employment Hero Response
3 months ago
Hi Brett, Thanks for taking the time to share your experiences with Employment Hero with others! We love seeing the impact our platform from an employee's perspective, so thank you! Have a great day, The Employment Hero Team