What Is UKG Ready?
UKG/Kronos Workforce Ready is a human capital management suite of tools on a single unified cloud platform that helps you manage the entire employee lifecycle from pre-hire to retire. Solutions for HR, recruiting, onboarding, time tracking, payroll, and more are easily accessed through a single intuitive interface. Automated and scalable tools provide a single source of truth with common reporting, dashboards, and robust workflows. Included self-service and mobile app allow easy, anytime access.
Who Uses UKG Ready?
Designed for businesses with 200 or more employees, Kronos is a multiple award winner leading cloud-based solution that provides skills tracking, performance management, shift swapping and much more.
Where can UKG Ready be deployed?
Cloud, SaaS, Web-based, Windows (Desktop), Android (Mobile), iPhone (Mobile), iPad (Mobile)
About the vendor
UKG
Located in Lowell, US
Founded in 1977
Phone Support
Chat
About the vendor
UKG
Located in Lowell, US
Founded in 1977
Phone Support
Chat
UKG Ready videos and images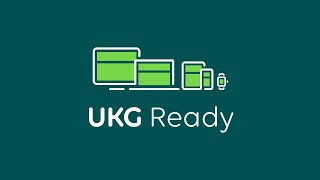 Compare UKG Ready with similar products
Features of UKG Ready
ACA Reporting
Action Management
Alerts/Notifications
Applicant Tracking Software
Assessment Management
Automated Scheduling
Automatic Time Capture
Availability Management
Benchmarking
Benefits Dashboard
Billing & Invoicing
Budgeting/Forecasting
COBRA Administration
CRM Software
Calendar Management
Candidate Management
Candidate Profiles
Candidate Tracking
Check Printing
Collaboration Tools
Compensation Management Software
Compliance Management
Compliance Tracking
Contractor Management Software
Direct Deposit
E-Verify/I-9 Forms
Electronic Forms
Email Management Software
Email Marketing Software
Email Templates
Employee Benefits Administration
Employee Database
Employee Handbook
Employee Management
Employee Portal
Employee Profiles
Employee Recognition Software
Employee Scheduling Software
Feedback Management
Float Pool Management
Goal Setting / Tracking
HIPAA Compliant
Health Insurance Administration
Individual Development Plans
Interview Management
Interview Scheduling
Job Posting
Labor Forecasting
Leave Policy Management
Leave Tracking
Messaging/Shift Dispatching
Mobile Access
Multi-Location
On-going Performance Tracking
Onboarding Software
Online Benefits Enrollment
Online Booking
Online Punch Card
Online Scheduling
Online Time Clock
Online Time Tracking Software
Orientation Workflow Management
Overtime Calculation
Payroll Management
Payroll Reporting
Peer Appraisals
Performance Management
Performance Metrics
Performance Review Management
Provider Management
Pulse Surveys
Punch card
Question Library
Real-time Scheduling
Real-time Updates
Recruitment Management
Reminders
Reporting & Statistics
Reporting/Analytics
Resume Parsing
Resume Search
Resume Storage
Review Cycle Tracking
Scheduling Software
Self Service Portal
Shift Scheduling
Shift Swapping
Sick Leave Tracking
Skills Tracking
Social Media Integration
Succession Planning Software
Task Management Software
Tax Compliance
Time & Attendance
Time Off Management
Time Off Requests
Time Tracking Software
Timesheet Management
Training Management
Vacation/Leave Tracking
W-2 Preparation
Workflow Management Software
Camilo C.
Talent Acquisition Specialist in Colombia
Verified LinkedIn User
Logistics & Supply Chain, 501-1,000 Employees
Used the Software for: 1+ year
Best ally for recuitment process.
Comments: One of the benefit of use UKG is the organization of the applicants on different stages, the information they got, the interface is so easy to understand.
Pros:
How easy is to use, the explanation of all the stages, the commitment with the applicant, the interface.
Cons:
Sometimes the website is down and that affect the operation.
Lisa M.
HR Director in US
Hospital & Health Care, 201-500 Employees
Used the Software for: 1-5 months
Source: SoftwareAdvice
Alternatives Considered:
Kronos Review
Comments: I am a little frustrated with at times the communication flow. Frequent cancellations of meetings. Not always meeting deadlines on things. Sometimes not communicating proactively updates on where we are at with fixing certains issues. The latest hiccup occurred when the system went down and we reported this. Then we found out that we were supposed to sign up for the workforce community to get the updates when something goes wrong. This was either not communicated to us, or not quite communicated in a way that any of the implementation team understood. Not one of us either remembered or understood this. Separate from that I am very disappointed that important notifications are not automatic - instead we have to sign up for those notifications. My question is why? Shouldn't important notifications be standard? I have never had a product where we've had to sign up for those. You really need to reconsider that. There are other minor issues that make no logical sense to me as well. Like how to request PTO and not having the option to request a flat number of hours over several days. We are a healthcare operation with various schedules and requesting two weeks cause odd things to happen. Seems like this is something that should have been offered as an option long ago. Our first go-live date was December 23rd and now it is August 16th and we still have not gone live because there are still numerous issues to work through. That is frustrating for all the staff here.
Pros:
I've used time and attendance systems before and generally like them.
Cons:
We've have a tough time pulling the trigger to go live. I recognize that some of that is related to our unusual rules. However, I get a little disappointed about the lenghthy time and some of the hiccups seem to be for other reasons.
Maci H.
Human Resources Manager in US
Hospital & Health Care, 51-200 Employees
Used the Software for: 1+ year
UKG Ready Set Go
Pros:
UKG has been a blessing for our facility. Our old time clock system was through Kronos often referred to as Greenscreen. This program is a night and day difference from that. My 81 year old employee can use it with ease!
Cons:
The system will periodically "error" the punch. My employees will select punch to clock in or out and UKG doesn't process the punch. This will create a few missed punches that we have to then track down. Frustrating.
Majeeda P.
HR Generalist in US
Recreational Facilities & Services, 501-1,000 Employees
Used the Software for: 6-12 months
Source: SoftwareAdvice
Alternatives Considered:
A good software but not unfortunately designed for Park Districts.
Comments: I liked the support staff that helped me with issues that arose. In particularly, I want to say that they were great, even though, they could not always help me. They made an honest effort and tried to even make logical solutions to help remedy my issues. Rep was by far my favorite support persons. Please let them know that I appreciated their time and energies. They did a tremendous job helping me with the software and always followed up and followed through. I will miss our lengthy support sessions!
Pros:
There was some level of customizing available.
Cons:
It was not a software designed for an organization like mine, a park district. In our organization, most employees work in more than one role at all times. Kronos could only keep general record of one job with one pay rate to each employee (we did not have the Payroll portion of Kronos). Some notifications that we needed were not available. Creating forms from scratch was difficult. Webinars were very long (3 Hours). Kronos was not as customizable for us as we had hoped. many things that we wanted to do with the system were not possible. Applicants had a hard time applying through the software. I had constant issues with log-ins.
Bruce B.
Technical Support Supervisor in US
Information Technology & Services, 51-200 Employees
Used the Software for: 2+ years
Source: SoftwareAdvice
Alternatives Considered:
Flexibility to Customize According to Your Needs
Comments: We are using time-sheet entry notes for our users to document their activities with customers. These notes in turn make their way onto our billing statements to our customers . This saves countless hours of work for our billing department.
Pros:
Workforce Ready is a very robust time and labor application that can integrate seamlessly with your payroll solution. The granular configuration options allow the administrator and/or implementation team to set up their timekeeping solution according to their individual needs. Moreover, by mixing and matching profiles within the different areas of configuration, one can fine tune options by departments or individual employees if necessary.
Cons:
Perhaps it is unavoidable but with the extreme level of flexibility comes also an extensive admin interface that could take a good amount of time to fully grasp. An administrators with years of experience could easily expect to still be learning new and better ways to complete tasks.