What Is Agile CRM?
Agile CRM is a All-in-One CRM with Sales, Marketing and Service automation in single platform. It has sales tracking, contact management, marketing automation, web analytics, two-way emails, telephony, and helpdesk with a simple, clean and modern interface.
Who Uses Agile CRM?
Small to medium size businesses that require sales, marketing and service automation
Where can Agile CRM be deployed?
Cloud, SaaS, Web-based, Mac (Desktop), Windows (Desktop), Linux (Desktop), Android (Mobile), iPhone (Mobile), iPad (Mobile)
About the vendor
by Agile CRM
Located in HYDERABAD, India
Founded in 2012
Phone Support
24/7 (Live rep)
Chat
About the vendor
by Agile CRM
Located in HYDERABAD, India
Founded in 2012
Phone Support
24/7 (Live rep)
Chat
Agile CRM videos and images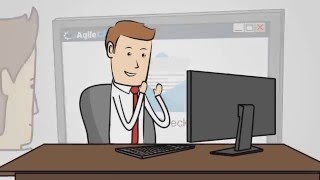 Compare Agile CRM with similar products
Starting price
US$8.99/month
US$20.00/month
US$50.00/month
US$12.50/month
Erik R.
Co-Owner + Videographer in US
Verified LinkedIn User
Used the Software for: 1+ year
Agile CRM is a Great First Step into the CRM World
Pros:
I used this platform for a solid year and put in hundreds if not thousands of contacts into this CRM. I liked how many categories there were to define a lead or a contact, the system that you set up to see how much potential revenue you had to win based on your leads was helpful, and the price is unbeatable. I mean truly, you can use this platform for free for up to 50,000 contacts. That's pretty amazing.
Cons:
There's a reason why I call this particular platform a good "first step." Agile CRM says it offers marketing automation, gamification, and project management - but this is a far from complete product. In the free version you can only create so many marketing automation blocks before it makes you pay, but even if I did upgrade I'm not sure the platform could handle the sales process I wanted to have set up. Something else to mention about this platform is there customer service. I'm fairly certain the CEO is their only customer service rep. Every time I had a problem with the platform (roughly 1-2 times a month) it was the same man who picked up the phone - and when my problem was solved he made me delete the Tweet I sent out when I asked for help, and then made me publicly thank him. I found that very strange. Overall you should try this platform out if you're just starting out, but upgrade to something like Infusionsoft if you're really looking to up your game.
Guillermo G.
Sales & Marketing Manager in Argentina
Verified LinkedIn User
Education Management, 2-10 Employees
Used the Software for: 6-12 months
All I need to work in one place
Comments: The biggest benefit that this software has given me has been to optimize everything that has to do with the world of sales and marketing, generating the reports I need to demonstrate in the company how useful our strategies are, what aspects to improve, and generate our own leads, all in a very organized way and as its name says "agile".
Pros:
I started working with this platform a little less than a year ago. My job consisted (and still is) in generating leads for the company and developing marketing and sales campaigns from scratch. Agile CRM has been fundamental, since it integrates perfectly with everything I need. I have my contacts in one place, which I can follow very easily. Its greatest strength is the ease of use and integration with multiple tools. Something as simple as managing notifications and alerts make the most of my time and organize my agenda in a practical way. I can generate reports where the effectiveness of the different strategies is established. For example, the result of phone calls, mail campaigns, newsletters, and more. I was able to import all the contacts in a very simple way and clean my list in a short time. Another great thing: the mobile app and the possibility of integrating with other programs. Today I have it integrated with Bria and Skype, also linkedin and facebook. Everything in one place, is the most practical CRM platform that someone like me (who has just started and was analyzing options) has found, and I´m very satisfied with this software.
Cons:
I think it would be convenient that in the future they made some training videos to explain how to correctly configure the automation tools, since I think it has been the most difficult to understand.
Lee M.
Managing Partner in US
Computer Software, 11-50 Employees
Used the Software for: 1+ year
Used to be Good - Now nothing more than a scam
Comments: Used to use heavily (20,000+ contacts) but it'd become such a broken product I wouldn't recommend it to even the smallest of users. It has no reliability at this point.
Pros:
Agile CRM at one point was a great reasonably-priced solution for start-ups looking for basic contact management with some campaign management features, etc. Sadly, the Pros are long-gone and Agile CRM is nothing more than a scam today with most of the add-on features, as well as basic things like email, hardly ever working.
Cons:
Campaign sending has been flaky for at least 8 months with emails consistently not being sent, no logs tracking info, and a customer service team that always responds "their back-end team will be taking a look at it". As these issues go on for weeks they still bill out the $79 / month enterprise fee per user plus add-on email costs without rectifying the issue. It's gotten so bad that at times users can't even reset their own password because AgileCRM's PW emails won't even send. They blame this on an internal API Key issue - again been weeks on something as simple as resetting your password. This is a total waste of a product at this point.
Verified Reviewer
Full Time Translator in Algeria
Verified LinkedIn User
Publishing, 11-50 Employees
Used the Software for: 6-12 months
Alternatives Considered:
It shortened our response time
Pros:
The Automatic Call Distribution helped us make our response time as short as 5 minutes which made our customers happy and reduced the chrun.
Cons:
It didn't came with Call Tracking, Call List Management and Batch Processing.
Management Consulting, Self Employed
Used the Software for: 6-12 months
Alternatives Considered:
Good little CRM for a great price
Comments: Great system for tracking and following up with clients through the sales, marketing and implementation phases of the customer relationship.
Pros:
Agile has a very expansive set of features that I could not find on other similarly priced products. It is reasonably priced for solopreneurs and offers a grown-up set of features for even small companies. The system is very configurable and offers user-defined fields for contact, company, and deal records - most other CRM solutions don't.
Cons:
It looks like it needs a facelift - the UI could be improved as it doesn't look like there has been an update in many years. I would like to see a view that combines the information from contact, company, and deal records on one screen.