What Is TalentLMS?
TalentLMS is the LMS built for training success. Designed to get a yes from everyone, its where great teams, and companies, go to grow. With an experience thats fully customizable and easy to manage, teams embrace training while feeling right at home. TalentLMS makes it easy to provide the right training to any team and every use, while giving expert guidance and support every step of the way. On a mission to democratize training, TalentLMS already serves 70, 000+ teams worldwide.
Who Uses TalentLMS?
TalentLMS's simplicity is loved by thousands of customers around the globe. Recognized as the #1 most affordable LMS, TalentLMS will fit the needs of any company no matter its size or training type.
TalentLMS Details
Epignosis
Founded in 2012
TalentLMS pricing
Starting Price:
US$59.00/month
Yes, has free trial
Yes, has free version
TalentLMS has a free version and offers a free trial. TalentLMS paid version starts at US$59.00/month.
Pricing plans
get a free trial
TalentLMS Details
Epignosis
Founded in 2012
TalentLMS videos and images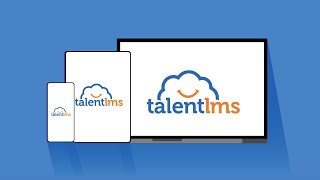 TalentLMS deployment and support
Support
Email/Help Desk
FAQs/Forum
Knowledge Base Software
24/7 (Live rep)
Chat
Deployment
Cloud, SaaS, Web-based
Windows (Desktop)
Linux (Desktop)
Android (Mobile)
iPhone (Mobile)
iPad (Mobile)
Training Software
Live Online
Documentation
Videos
Nick S.
Product Marketing Specialist in US
Verified LinkedIn User
Computer Software, 51-200 Employees
Used the Software for: 2+ years
Continued improvements
Comments: Overall it has been a great experience. Their support is always helpful and timely, they rarely have service disruptions (despite a massive increase in e-learning following COVID) and they have continued to improve the features of the product.
Pros:
Talent LMS has continued to deploy regular quarterly updates which improve the features and usability of their product. They've maintained affordable pricing along the way, even when large updates have been added to the system. It's really easy for our learners to use and administration and reporting is pretty good.
Cons:
Certification management needs to be improved further. I still haven't quite figured out how we will handle re-certification if requirements differ from the original. It's also not easy to get the certificate ID number, which is important to be able to store the data outside of Talent LMS. Our workaround requires manually loading a PDF preview and taking the ID from the PDF, which is the only place you can embed it natively. Reporting has gotten increasingly better over time but can still use some better cross-object reporting and filtering based on other criteria.
Alternatives Considered: Adobe Connect Learning and Skilljar Customer Education
Reasons for Switching to TalentLMS: Better value for money considering all the features. Also was extremely white label and had broad API access which was important to us to integrate into our existing customer systems and portals.
Epignosis Response
12 months ago
Nick, thanks for your feedback and review! As you mentioned, our team continues to keep improving TalentLMS and our quarterly updates are a result of the feedback we gather from our customers. It's great to hear that you've had a great TalentLMS experience thus far, and we'll keep working hard to ensure things keep on getting even better!
Alejandro C.
Sales Enablement Director in Argentina
Verified LinkedIn User
Marketing & Advertising, 2-10 Employees
Used the Software for: 1+ year
Great platform to get your teams trained!
Comments: So far it's been great. We're already getting feedback from our users (sales people mostly from our customers) and regardless of the quality of the content, their experience compared to our previous platform is already better
Pros:
How easy and simple creating courses and enrolling people really is. I honestly believe that any platform that benefits the user experience is good enough to give it a try but I was blown away by how simple getting things out there was.
Cons:
Customization is a bit hard for beginners like me. This is the first time I'm the admin of a LMS, and they do have a great help / knowledge base system and sometimes I need to do some digging to get to the right answer. Luckily there's a very active community that usually points me in the right direction when I miss some of that help.
Alternatives Considered: Moodle and Docebo
Reasons for Choosing TalentLMS: We needed a better customer/end user experience for our learners and TalentLMS is delivering.
Switched From: Moodle
Reasons for Switching to TalentLMS: It's ease of setup and use, it's price point and the overall feedback we got from different people we consulted with just made it obvious that was the right platform for our customers and our business size.
Epignosis Response
2 months ago
Thank you for a very insightful review Alejandro. We love hearing that you find TalentLMS easy and simple. If you ever need extra help, don't doubt in reaching out to our top-notch support team!
Mark W.
Museum Planner in Mexico
Architecture & Planning, 2-10 Employees
Used the Software for: 6-12 months
Lacking Features as Advertised
Comments: Very poor customer service, see above over six months or trying to work out issues with customer support, next step is Better Business Bureau.
Pros:
The software is said to have many features at a low cost, this is clearly false advertising.
Cons:
The software is advertised and marketed as a platform for selling online courses. For many issues users are required to enter CSS or Javascript for simple issues like a social media link. For over six months I have been trying to work with customer support, today I gave up. My next step is to report the company to the Better Business Bureau. As the [SENSITIVE CONTENT HIDDEN] wrote me: Hi Mark, Thank you for contacting me and for sharing your concerns. I can understand your frustration. It is true that our product development team has decided to focus more on Enterprise features, rather than e-Commerce related ones. We offer some integrations with payment gateways and specific eCommerce features allowing our customers to sell their courses through their TalentLMS portal but it is not our main focus. As far as your specific requirements are concerned, our support team offered you advice on how you could use our CSS / Javascript editors to achieve what you are looking for. We have decided to offer these editors (CSS / Javascript) to give our customers more freedom. Using these editors you have more options, but CSS and Javascript knowledge is required. We cannot provide customization services to our customers, according to our policy, but our software support engineers are always available to advise and guide you through. Please let me know if you need any further clarification. [SENSITIVE CONTENT HIDDEN] Pioneer in eLearning solutions TalentLMS
Epignosis Response
2 years ago
Dear Mark, we're sorry to hear that the follow up provided by our customer support team has not met your requirements. As mentioned in the email you shared, our team is on-hand should you wish to seek any further assistance. We wish you all the best in your future business endeavours.
Verified Reviewer
Designer - marketing in Mexico
Verified LinkedIn User
Graphic Design Software, 2-10 Employees
Used the Software for: 6-12 months
TalentLMS
Comments: Overall it is good. Content creation pages is basic and could use more elemental tools to make them more appealing (like Word formatting)
Pros:
I is very easy to use and to create basic content, and the working area is large which I like more than other alternatives. For beginners is quite easy to start creating content and courses. Has the ability to integrate more advanced external html and external resources
Cons:
Lacks features in the design area. Integration of questions, test and graphic material could be easier. Needs more organizational tools. Needs more tips to integrate advanced html commands
Alternatives Considered: LearnWorlds
Reasons for Choosing TalentLMS: Price, interface and ease of use
Switched From: CANVAS
Reasons for Switching to TalentLMS: I did not have time to test Learnworlds because we were on a time limit to launch a course, and I had already practiced with Talent
Epignosis Response
last year
Thanks for your review and welcome to TalentLMS! Thanks for choosing us as your new LMS. We're glad to hear that you're finding TalentLMS easy to use and we've shared your feedback with our team. If you need any assistance when using TalentLMS, check out our extensive knowledge base or feel free to reach out to our support team. Thanks again for choosing TalentLMS!
Sandra F.
CEO in Switzerland
E-Learning, 2-10 Employees
Used the Software for: 1+ year
Easy to use and very reliable
Comments: I'm very satisfied with this product. Thanks to TalentLMS, I can successfully offer my products to a large number of customers.
Pros:
I've been using TalentLMS since 2019. The software is easy to use , has all necessary features and works stable and reliable. There is an extensive product documentation available and a very fast support team is answering individual questions. There have been two webinars with helpful tips in the last 2 months. An app is available so that user can learn offline. Last update now enables more user-specific adjustments (Homepage).
Cons:
The offline app does not show exactly what is in the online LMS. There are few individual structuring options.
Alternatives Considered: iSpring Suite
Reasons for Choosing TalentLMS: LMS was not working properly.
Switched From: WordPress
Reasons for Switching to TalentLMS: TalentLMS has more functionality, is less expensive, very stable, easy to use, has an offline app.
Epignosis Response
10 months ago
Sandra, we are so happy to read that our support team have exceeded your expectations and that thanks to TalentLMS you can offer your products to your customers!!