What Is Thinkific?
Thinkific is an all-in-one online course platform that empowers anyone to quickly create and deliver stunning courses on their own branded site. Whether your goal is to educate your customers, to sell courses to earn revenue or to simply grow your brand and engage your audience, Thinkific makes it easy.
Join thousands of consultants, experts, authors, speakers, trainers, teachers, coaches, professional associations, and companies, and start selling courses on Thinkific today.
Who Uses Thinkific?
Everyone from small businesses, creatives, consultants, coaches, authors, speakers, and trainers to professional associations, larger companies and universities use Thinkific today.
Where can Thinkific be deployed?
Cloud, SaaS, Web-based
About the vendor
Thinkific
Located in Vancouver, Canada
Founded in 2012
Phone Support
Chat
About the vendor
Thinkific
Located in Vancouver, Canada
Founded in 2012
Phone Support
Chat
Thinkific videos and images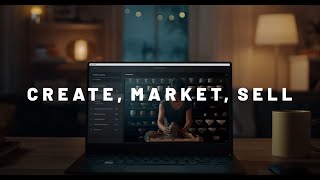 Compare Thinkific with similar products
Features of Thinkific
API
Activity Dashboard
Alerts/Notifications
Assessment Management
Assignment Management
Asynchronous Learning
Audio/Video Recording
Blended Learning
Built-in Course Authoring
Certification & Licensing
Certification Management
Class Scheduling
Content Library
Content Management System (CMS) Software
Course Authoring Software
Course Management
Course Publishing
Course Tracking
Customizable Branding
Customizable Templates
Data Import/Export
Employee Engagement Software
Feedback Management
Gamification Software
Gradebook Software
Interactive Content
Interactive Learning
Learner Portal
Learning Management
Learning Paths/Tracks
Media Import
Mentorship
Mobile Learning Software
Multi-Language
Online Video Platform Software
Progress Reports
Progress Tracking
Quizzes
Real-time Broadcasting
Reporting & Statistics
Reporting/Analytics
Screen Sharing Software
Self-Learning
Self-Service Content Curation
Social Learning
Storyboarding
Student Information/Records
Synchronous Learning
Template Management
Tests/Assessments
Third Party Integrations
Training Administration
Training Management
Virtual Classroom Software
eCommerce Management
Pamela K.
President in US
Verified LinkedIn User
Entertainment, Self Employed
Used the Software for: 1+ year
Alternatives Considered:
This is where I have my courses
Comments: Anytime I have a problem their tech support is great. And I haven't had any tech problems with the platform - my students are happy and use it easily.
Pros:
When I was researching all the different software for course hosting, I liked that this had a place to upload documents in the discussions. That might be really important for people teaching code or other products. Then I'm glad I choose this one because others take a % of income AND you have to wait longer for money.
Cons:
The layout isn't as clean and modern as others - I'm hoping that will be updated at some point. It's a little ugly.
Yadah H.
Educator in Ireland
E-Learning, Self Employed
Used the Software for: 6-12 months
Alternatives Considered:
Beautiful Course Platform for Online Education
Comments: A stunning product which I would have been happy to use (even with all the workarounds for certificates, email and quizzes). The support is quick with responses and the tutorials provided really are next-level amazing. A consistent and impressive LMS.
Pros:
This is an absolutely beautiful platform. Thinkific has been in the elearning industry for years and it shows - the portal is easy to navigate and set up courses. The tutorials section is robust and detailed, giving step-by-step information on how to set up various course features and troubleshoot any issues that may come up. There is the ability to issue certificates of completion, add an assignment section for students to upload their work, basic quiz functionality, drip-scheduling as well as compulsory lessons which need to be completed before the student can move on. The lessons can consist of videos, text, PDF's (which can be downloadable or not), or quizzes. You can embed videos and links from other sites too. The course analytics allow you to see how much of a course/lesson was completed before a student drops off, giving valuable insight which enables the course creator to edit and adapt the courses to make them more engaging for the students. There is also a 'community' feature which gives students the chance to chat and give/feedback away from an external site (like a Facebook group). Thinkific does not take any of the course fees and allows the course creator to keep 100% of the profits earned. There is also a free version which has a lot of features included.
Cons:
The certificates are quite basic and it's necessary to be design-savvy and tech-savvy to create a certificate which would be accepted in the upload process. The quizzes are very basic and do not support time-limits, limited retries or anything more robust than true/false or multiple choice. Should you want to integrate with a more robust quiz software, their native integrative party is quite pricey! There is no built-in email functionality aside from the notifications that can be sent to existing students. As email is becoming more popular among other learning management systems this is quite a big negative point against them. The option to whitelabel the site completely is only available on the 'Growth' plan which over and above the 'Pro' plan which is already $99.
Lucky O.
Founder/CEO/Content creator in Nigeria
E-Learning, 2-10 Employees
Used the Software for: 6-12 months
Alternatives Considered:
Thinkific LMS platform. An honest review
Comments: Thinkific is a great LMS with many inbuilt integrations. Even though most of the integrations are not free, they help in building a better LMS all round.
Pros:
Other than being a good Learning management platform, students could upload video contents and gifs in the communities of a thinkific school. This isn't possible with other LMS I've used. I think this is a great advantage in my opinion as videos drives conversations better.
Cons:
If I could upload SCORM/HTML5 contents it'll be a better product for me. Also, the course builder layouts are not as sleek as I expected in comparison to other products.
Farah A.
Business Owner in US
E-Learning, Self Employed
Used the Software for: 1-5 months
Alternatives Considered:
Good overall with critical limitations for teaching online live
Comments: Good. They have excellent customer support and they responded to me quickly even during busy times. I actually recommended them for a company that has recorded videos and could benefit from using a modern LMS to share their recorded lessons.
Pros:
I think I like the idea of the software. There are alternatives. I think I picked Thinkific first because they have clear description about their software, seemed reputable and seemed like they have good customer service and responsiveness. Their website is nicely responsive for different screen sizes. Although the theme itself is limited, and you are on your own to customize it, I felt that the drag and drop choices for the editor covered everything I need.
Cons:
There were critical limitations that I felt decreased the value of the software for my business. The first thing that made me feel uncomfortable is that the website you build for your business through their LMS software would publish to the public immediately as you save the changes. I look thoroughly through the website theme settings, but there was no way to keep the website as "password protected" or "private" before it is published. As a result, I felt I should hold on about sharing important details until I write the entire content of the website, then drag and drop the content for the layout, and then put the content. After that first issue, I felt less excited. There were other limitations that resulted in me losing interest. I didn't feel like I want to pay to customize my website with HTML and CSS. importing your own website website was not a convenient option. My courses were live online but their website had no way of sharing the time on the website based on the user local or system time. I would have to pay for their Pro plan and do it myself with javascript. I could look up and learn how to do it, but I didn't want to. I felt like the software was good for only recorded content. The price they were asking for was not convincing anymore. Slowly and slowly I lost interest. Finally, I saw that they charge a flat fee for each student plus their monthly fee, for any student after the 100th student. I decided not to move forward with them.
Danielle N.
Video Editor and Social Media Content Creator in US
Verified LinkedIn User
Design, Self Employed
Used the Software for: 1-5 months
So Far So Good
Comments: I was brought on board to help manage my client's Thinkific site. I did not have previous experience with Thinkific. So far, I've been satisfied with my overall experience.
Pros:
I had no experience with Thinkific prior to jumping in to help my client with her account. However, I had some experience with other landing-page builders, and it was not too difficult to get the hang of using the Thinkific Site Builder. Also, I quickly found some YouTube videos that helped me out as well. My client already had a published Thinkific site. Thinkific has the option to create an offline copy so we can experiment with a new design and not worry about messing up the live site or causing disruptions for students. As a newbie, I was relieved not to have to worry about messing anything up. The Theme Library has a decent selection of templates - just enough to find a good starting point but not too many to be overwhelming. The sample landing pages are great inspiration as well. I love the "smart" blocks that pull content from elsewhere in your account. For example, the instructor's bio or course curriculum or student reviews.
Cons:
I encountered a few limitations: - The Site Builder includes about a dozen or so recognized fonts, but I did not see a way to add custom fonts. Maybe this is comes with a higher plan. - For the instructor's bio, I didn't like the default design of the "Instructors" block, so I just used a "Text & Media" block. That would have seemed fine, except the text and photo are too close together. I couldn't see a way to increase the space. - You can get a pretty good preview of the page using Fullscreen mode inside the Site Builder - but the links and buttons are not clickable. I didn't find a way to preview the course landing page with live links/buttons so I can make sure they are working properly. If I'm working with an offline copy, I would like to be able to check links and buttons BEFORE publishing and overriding our existing live page.