What Is Lightspeed Retail?
Promo: Save up to $1,000 on our retail digital bundle. This cloud-based POS centralizes inventory management, employee management, sales reporting & accounting across locations and channels.
Who Uses Lightspeed Retail?
Lightspeed's functionalities are aligned with retailers' and restaurateurs' priorities. It simplifies day-to-day tasks so you're free to focus on what matters: business growth and customer experience
Where can Lightspeed Retail be deployed?
Cloud, SaaS, Web-based, Mac (Desktop), Windows (Desktop), Linux (Desktop), Chromebook (Desktop), iPad (Mobile)
About the vendor
by Lightspeed
Located in Montreal, Canada
Founded in 2012
Phone Support
24/7 (Live rep)
Chat
Languages
Dutch, English, French, German
About the vendor
by Lightspeed
Located in Montreal, Canada
Founded in 2012
Phone Support
24/7 (Live rep)
Chat
Languages
Dutch, English, French, German
Lightspeed Retail videos and images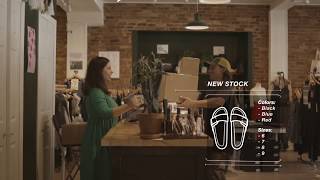 Compare Lightspeed Retail with similar products
Starting price
US$69.00/month
N/A
US$29.00/month
US$89.00/month
Lightspeed Retail Features
Zondre W.
General Manager in US
Verified LinkedIn User
Retail, 11-50 Employees
Used the Software for: 1+ year
Alternatives Considered:
Great integrated system
Comments: Lightspeed has been great. We have been using it for over a year and it has met my expectations. Whenever I request help, which isn't that often anymore they are quick to respond.
Pros:
The best feature of LIghtspeed is the analytics package. As a senior manager you can spend a lot of time calculating your performance manually in excel. But the Analytics package takes care of all of that. It's easy to see the performance of your inventory, employees and marketing at any time. There are also a lot of apps that work with Lightspeed that make it the most functional POS system I've used. The fact that the ecommerce is integrated as well makes it a great fully integrated system. You could pay a lot more to piece together all the of the systems you need. Or you could spend a huge amount of money creating a custom system.
Cons:
There are some small idiosyncrasies like not adjusting sync times for your local time zone. So, yesterday is never accurate you have to wait for the next days sync to get have accurate information. I would also like to be able to have our time management app sync employee time to Lightspeed so we don't have to enter it manually. I've given up on tracking employee hourly performance for this reason. Or if they offered a better time clock management natively that would help. I'd also like them to include the previous year comparisons in their dashboard. And, I'd like to look at seasonal performance rather than just month to month and week to week.
Verified Reviewer
Freelancer in Philippines
Verified LinkedIn User
Telecommunications, 501-1,000 Employees
Used the Software for: 1+ year
Alternatives Considered:
The Point of Sale solution
Comments: Overall, the software does a great job in helping Accountants, managers and front liners in the Retail industry. What's great is that it integrates with ECommerce to be more efficient in selling your products out there, not just from the brick and mortar setup, but in the online as well.
Pros:
I tinkered with this software and got ot know this from the inside and out. I like the functionalities as it allows you to break free from the spreadsheet and manual entry. Gone are the days of tallying and doing adjustments on a piece of paper. It has filter functions for reporting, it auto calculates taxes by assigning it in the initial setup, browser printing integration, you can conveniently import inventory from a csv file to your POS system and export those reports in a csv format. The hardware associated to it works seamlessly like the tablets, scanners, and printers. Although , it endorses Apple products, it works perfectly fine with Windows operating systems. It also has a companion product which is called Lightspeed Accounting that is comparable to Quickbooks
Cons:
A few bugs are slowly being fixed as each maintenance and update is released, just like any other software. Although workarounds can be done to remedy it, but you'd have to seek assistance from Tech Support.
Retail, 2-10 Employees
Used the Software for: 2+ years
Lightspeed Works For Me
Comments: I've been very satisfied overall. And it allows me to make more money.
Pros:
I use lightspeed for my Point of Sale, Merchant Services, E-Commerce, & Website Hosting. It also works along with my Quickbooks accounting software. The biggest benefits for me are having one point of contact for all those services, 24/7 Support, that it is cloud based, and that I can access the system when I'm away from work to make customer quotes, check pricing, or help an employee on my day off. It allows me to make more money.
Cons:
Setting up Lightspeed Accounting To Work With Quickbooks.
Building Materials, 2-10 Employees
Used the Software for: 6-12 months
Source: SoftwareAdvice
Not Able to Customize Anything
Comments: We are a small retail store with three locations that does mostly local sales and some online sales. We manufacture some of our own products as well as re-sell other products. We also do a lot of large custom orders. We explained in detail to our sales person what kind of business we were and what our needs were for the system, including the type of work orders/invoices we needed to be able to format for our employees and customers. We were promised that all the forms and reports were totally customizable and it would be no problem. This is not the case at all! The work order forms and invoices can barely be customized and the only way you can customize it is if you know script or how to write in code. We've called customer support and they have offered no help on how we can customize it to fit our needs or even offer some outside resources that we would be glad to pay for. All we've gotten is "sorry, we can't help. if you want to request for this feature in the future, they may or may not add it." We were fully expecting and promised to be able to format our work orders and reports from the start, but now we can't every run our business out of this system. Total waste of money!
Pros:
- The retail POS side works fine - e-Commerce side works fine
Cons:
- Very complicated to customize any forms or reports for your business or not able to customize at all - Lack of customer support - Sales person overpromised on what system was capable of regarding our small business needs that were explained beforehand
Lightspeed Response
4 weeks ago
Hi Marina, Thank you for your feedback. We are sorry to hear that you were less than satisfied with your recent experience with Lightspeed. It is our utmost priority to provide a product and service that allows our customers to focus on running their businesses with ease. Someone will be reaching out to you once more to discuss your request further and next steps. Thank you for your understanding. Thank you, Lightspeed Commerce
Astrid Y.
wine director in Canada
Hospitality, 11-50 Employees
Used the Software for: 2+ years
Massive improvements and proactive customer support
Comments: n/a
Pros:
Initially we had problems getting support because they were very short-staffed. However they have done a lot to improve this aspect and I am confident that every time we call our support person will respond quickly and be able to solve our problem.
Cons:
It was a little more difficult to implement than some other systems, so more of a learning curve for users. Also there are some product features that have some limitations at the moment but I think they will be resolved.