What Is Teamwork?
Work and project management software that helps in-house teams & agencies improve collaboration, visibility, accountability and ultimately results. Teamwork has all the features you need to collaborate effectively, simplify communication and centralize project information to make project management quicker and more efficient. Use Teamwork to manage everything from delivering client projects, to executing marketing campaigns, to sprint planning and website redesigns.
Who Uses Teamwork?
Work and project management software that helps in-house teams & agencies improve collaboration, visibility, accountability and ultimately results.
Teamwork Details
Teamwork.com
Founded in 2007
Teamwork Details
Teamwork.com
Founded in 2007
Teamwork videos and images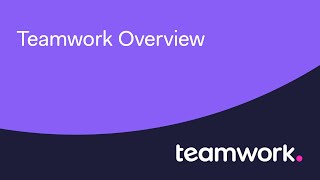 Compare Teamwork with similar products
Starting price
US$10.00/month
US$13.49/month
US$10.00/month
US$9.80/month
Teamwork deployment and support
Support
Email/Help Desk
FAQs/Forum
Knowledge Base Software
Phone Support
24/7 (Live rep)
Chat
Deployment
Cloud, SaaS, Web-based
Mac (Desktop)
Windows (Desktop)
Linux (Desktop)
Android (Mobile)
iPhone (Mobile)
iPad (Mobile)
Training Software
Webinars
Documentation
Videos
Brett G.
US
Verified LinkedIn User
Used the Software for: 1+ year
Source: GetApp
Productivity in full effect
Pros:
Teamwork is great for not only a team of people, but for the individual user as well. I run a small accounting business and I'm my only employee. Teamwork allows me to set up tasks and projects that are both one-off tasks and regularly reoccurring tasks. As I check off the tasks that need to be done today, I can look forward to the rest of the week and get a good reminder of what is coming up. It also allows me to invite clients into the tasks so they can see the status of where I am at in a project we have agreed upon. They can upload documents, make comments. I can use a basic time-tracking tool to make sure I'm not estimating my time spent incorrectly. The extra time I have to spend upfront to get the tasks and templates created is well worth the time when a new client comes along. I don't have to recreate the wheel, or think extra hard at remember what I did last time. I can simply apply a template of tasks for any given project that is needed and we are set and rolling! This is one of the best tools I've discovered for running my practice.
Cons:
For tasks that are set as reoccurring, their display of the tasks isn't the best. I click the task as complete and it immediately populates the next instance of that task right below the one I completed. I have to pay special attention to the tasks for this reason when checking stuff off. I have often checked the next month's task off after clearing the current one. When I uncheck the following month's task as actually not completed, it does not remember the future events that were created, thus making my task list look much larger than it actually is.
Teamwork.com Response
3 years ago
Hi there, Thank you for the review of Teamwork Projects. Kind regards, Nancy at Teamwork.
Paulo F.
Founder - CFO in Brazil
Marketing & Advertising, 2-10 Employees
Used the Software for: 1-5 months
Teamwork to integrate you team work ;)
Comments: My overall experience is OK since my client requires us to use it within their organization. It's taking time to get used to it and learning how to use it properly.
Pros:
The platform is very complete! Pro managers will have a field day working with this platform since it has all the necessary features to help them keep track of the work being done throughout the team/organization.
Cons:
Like any other software or platform, it takes time to learn how to use and get used to it. This is always a deal-breaker for me, whenever the estimated time to setup and start using a product is long I am discouraged in using it.
Teamwork.com Response
10 months ago
Hi Paulo, Thanks for leaving a review of Teamwork - we really appreciate it. It's great to hear that Teamwork has all the necessary features for your team! I'm sorry to hear that you've been experiencing issues with onboarding - could you email us at [email protected] so we can look into this further? Many thanks, Karen at Teamwork
Guadalupe A.
Senior Accounting Manager in US
Verified LinkedIn User
Hospital & Health Care, 10,000+ Employees
Used the Software for: 1+ year
This program has excellent file and calendar management
Comments: The diversity of this program is very good. It promotes creativity and accountability. It also incorporates complementary advantages and teaches us the skills to resolve conflicts. This tool can also promote a broad sense of ownership and encourage a spirit of adventure.
Pros:
It has the perfect task. It also has the function of more time tracking of tasks and subtasks, and can also be integrated with other key applications such as Desk and Chat. Besides, the support team is very fast and can solve problems immediately.
Cons:
Similarly, reports and overall appearance need improvement. More features need to be added, and card-based motherboards may also need improvement. Besides, the customer success administrator may be more proactive. There is also no way to see the capability of the team.
Sophie A.
Operations Manager in UK
Marketing & Advertising, 11-50 Employees
Used the Software for: 6-12 months
Alternatives Considered:
Great for tasking, mediocre to terrible at everything else
Comments: Teamwork excels at tasking and basic project management, but don't count on it for any company or portfolio insights and/or big picture views. This is a good tool for small teams that worry about pipeline and traffic control but not for large interconnected teams that require account management, efficiency evaluation or budget oversight.
Pros:
The UI is very intuitive and clear. Actions around tasks have short paths to complete and work well. The features for tasking are useful and easy to work with. The knowledge base covers almost every topic and support is responsive, friendly and helpful.
Cons:
The reporting tools are basically non-existent and any historical evaluation of data almost impossible. Teamwork does not distinguish or allow to filter for late tasks historically, which means once a task/milestone is completed it becomes impossible to tell if that task was late or on time. This makes tracking efficiency and employee performance impossible as we do not know if tasks are on time in general and where the bottleneck lie. Similarly not being able to construct dashboards and manipulate data around time, late tasks, etc. for teams rather than projects hampers decision-making. Compared to something like Celoxis or even Jira which for example allows to compare any data with custom scripts etc, Teamwork feels incredibly inflexible and dated to have to export excel sheets to manipulate and evaluate data. Our account managers are not able to find out if they are doing good or not on a specific account as data can not really be filtered and displayed that way either.
Teamwork.com Response
12 months ago
Hi Sophie, Thanks for your review of Teamwork. We apologise for the issues you have experienced with our product. Could you email us at [email protected] so we can try resolve these problems? Kind regards, Karen at Teamwork
Halimatun Z.
IT Manager in Malaysia
Verified LinkedIn User
Accounting Software, 1,001-5,000 Employees
Used the Software for: 2+ years
Project management and collaboration with Teamwork
Comments: Managing and collaborating on project and task with Teamwork is fun and effective for our team and organization.
Pros:
Teamwork is a simple-to-use program that is packed with functionality for collaborating on and managing projects. Notifications are handy. The flexibility to add individuals from multiple parties to work on a project is incredible, and it definitely gives me an edge advantage over other similar PM tools. Teamwork's extension products provided even more benefits and values, thanks to the seamless integration process.
Cons:
When it comes to project management software, if you are looking for extensive project profitability tracking and reporting, Teamwork may not be the best option for you. Recent resource management feature updates give some capacity insights, but they lack the thorough analysis and reports other systems provide.