What Is Mavenlink?
The Mavenlink Industry Cloud for Professional Services™ is a powerful collection of operational management, resource optimization, business intelligence, integration, and workflow automation functionality that optimizes resources and elevates operational performance. A resource-first architecture, enables services businesses to field the best team, every time and see up-to-the-minute progress against timelines and budgets so projects run smoothly, predictably, and profitably.
Who Uses Mavenlink?
Mavenlink is ideal for professional services organizations with 50-5000+ employees. Focused in marketing, advertising, creative agencies, software, IT services, and management consulting industries.
Where can Mavenlink be deployed?
Cloud, SaaS, Web-based, Mac (Desktop), Windows (Desktop)
About the vendor
by Mavenlink
Located in Irvine, US
Founded in 2008
Phone Support
24/7 (Live rep)
Chat
About the vendor
by Mavenlink
Located in Irvine, US
Founded in 2008
Phone Support
24/7 (Live rep)
Chat
Mavenlink videos and images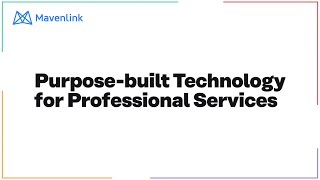 Compare Mavenlink with similar products
Starting price
US$59.00/month
US$7.00/month
US$13.49/month
US$9.80/month
Mike C.
Project Manager in UK
Verified LinkedIn User
Marketing & Advertising, 51-200 Employees
Used the Software for: 1+ year
Alternatives Considered:
Awesome platform that's only getting better
Comments: Overall, using Mavenlink has been great - it has made a very positive impact on day-to-day functions as a business. I would recommend it highly to agencies for its flexibility and extensive functionality to manage resources and projects.
Pros:
The reporting functionality Mavenlink offers is extensive and has enabled us to get much better visibility to our project, program, portfolio and resourcing data. Which in turn has allowed us to set/adjust our KPI/KRIs and better inform business decisions with the data we have available. In using Mavenlink how it's meant to be used, not only have we improved our business practices but our PMO has gained valuable insight into important aspects of the business that were previously siloed. The fact that Mavenlink actually continues to improve its platform based on user feedback is a massive plus, as new functionality becomes available to better utilize the platform.
Cons:
There are some small (very small in most cases) problems we have with some functionality i.e. the naming/categorization of metrics in the reporting suite could be clearer, when approving/rejecting timesheets, adding a comment to a specific entry would be preferable, rather than the comment being published to all entries.
Heather H.
VP Professional Services in US
Information Technology & Services, 51-200 Employees
Used the Software for: 1+ year
Source: SoftwareAdvice
Alternatives Considered:
Great company and product - still room to grow but on the right track!
Comments: The product has brought our processes to the next level and the overall experience has been positive.
Pros:
Resource planning was made 1000% better by using the Mavenlink product. It is an intuitive modern UI that is feature rich across the board.
Cons:
There are some gaps in the product and areas where I wish it had been more configurable. For instance, invoicing could use more flexibility in terms of how you build out an invoice (and how you display things on the invoice). Also, time tracking is easy but notes aren't required nor is there a config to make them required which has been a big pain for us.
Brendan M.
Associate in Canada
Management Consulting, 51-200 Employees
Used the Software for: 1+ year
Good system but some frustrating issues
Comments: Useful overall, but the more time I spend with it the more I realize it is missing some key functionality that would save a lot of time. It's much more difficult to update a project in Mavenlink than past systems I've used, and I think there are some beneficial tweaks that could be made
Pros:
From an ease of use standpoint, time entry and project creation is fairly straightforward. It's also nice to have access to so many reporting features, although I imagine that's even more valued by the leadership team rather than staff.
Cons:
Three major issues stand out to me and my colleagues: 1- the software is very slow at times, and the more time I spend making edits to a project the longer it takes. In some cases, the lag is so bad that a task that should take 10 minutes ends up taking 30 since I wait so long for the system respond. The more tasks and individuals assigned to a project, the worse it is. Customer service suggested I delete my cache, but this was a temporary and fairly ineffective solution 2- It'd be great to have a simple place where I can see exactly how many hours a team member has on a project. Right now, we can only see time assigned to individual tasks, and then need to calculate the total manually 3- When tasks get extended or shortened, it'd be great to have a way to have Mavenlink automatically distribute time accordingly. For example, if I have 1 hour assigned for a 1-week long task, it'd be nice if I could automatically change this to 30min/week if that task were extended to being 2 weeks long. I know time can move automatically if the gantt is updated, but that only works if the task stays the same duration and hasn't started yet. Other systems offer this feature
Rachel S.
Director of Operations in US
Verified LinkedIn User
Marketing & Advertising, 11-50 Employees
Used the Software for: 2+ years
Source: GetApp
Alternatives Considered:
A Project Manager's Dream Software
Comments: Overall, I've been very happy with Mavenlink. While it might not be the least expensive software out there, it's very robust so you definitely get a great bang with your buck. Their customer service is top notch - I always get a quick response when I reach out whether through support or through my CSR. Mavenlink made me more efficient at my job. Before Mavenlink, I was having to reconcile budgets to know project health by using 3 or 4 different systems (one for time tracking, one for task management, one for schedules/resource allocation, and another for the project information). Mavenlink has saved me so much time, and it's easy for me to look back at projects and learn from them for future projects.
Pros:
Mavenlink gives me a real-time view of project burn rates, utilization (billable vs. non-billable), and makes the life of a project manager so much easier. Being able to quickly look over all projects to check the burn rates (if it's green then it's good; if it's red then it's bad) saves me so much time.
Cons:
Like any software there is some give and take. The only thing I would like added is the ability to make overall project budgets and resource allocations repeat each month like my tasks do. However, the entire task repeater part that we use was an integration that we negotiated to have built for us when we originally contracted with Mavenlink.
Marketing & Advertising, 51-200 Employees
Used the Software for: 1+ year
Alternatives Considered:
One Source of Information
Comments: Mavenlink has been great to work with from conversion to ongoing support.
Pros:
Mavenlink enables us to know the workload of our teams and Ike projects on schedule and within budget.
Cons:
I wish the reporting was easier so that more users could work in it.