What Is Trello?
From sales and marketing to HR and operations, teams can design and customize Trello to fit their unique needs and work styles. And with over 100+ integrations with other key tools like Google Drive, Slack, Jira and more, Trello is a living, breathing project hub of cross-team collaboration no matter where your work needs to happen. Trello brings joy to teamwork by making it transparent and easily shareable across boards and teams.
Who Uses Trello?
Trello is for teams of all sizes, for the creators and doers, and for those who take dreams to done. Trusted by millions, Trello powers teams all around the world.
Where can Trello be deployed?
Cloud, SaaS, Web-based, Mac (Desktop), Windows (Desktop), Android (Mobile), iPhone (Mobile), iPad (Mobile)
About the vendor
by Atlassian
Located in San Francisco, US
Founded in 2013
Chat
About the vendor
by Atlassian
Located in San Francisco, US
Founded in 2013
Chat
Trello videos and images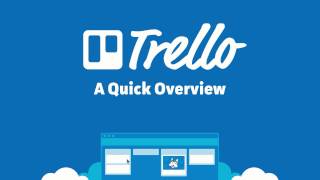 Compare Trello with similar products
Starting price
US$5.00/year
US$13.49/month
US$10.00/month
US$7.00/month
Eric r. B.
Chief Product Officer in US
Verified LinkedIn User
Research, 2-10 Employees
Used the Software for: 2+ years
Alternatives Considered:
Trello
Comments: I love how the cards are color coded and how I can easily see what's been completed or not, and that it's so easy to organize things with those tags.
Pros:
Trello is my go-to task and project management tool when I'm collaborating with outside parties. Trello is easy, intuitive, and free. It's great. I like that it's simple to use and that it's free. It's also great for collaboration.
Cons:
Sometimes people don't 'get' the concept of Trello and they want something more structured like Asana. I think that's more their problem than Trello's. I'm also worried that they've been bought my Atlassian and worry they will weaken it or charge more for it.
Daniel D.
Financial Advisor in Israel
Internet, 2-10 Employees
Used the Software for: 2+ years
Great free productivity tool to organize eyour thoughts
Comments: As a daily routine, I first implemented agile methodologies using Trello. The structure is simple, which makes it easy to understand, as well as to learn how to use it. Columns can be named whatever you like, and as many as you'd like. This is great for structures that are not conventional.
Pros:
Staying organized with projects for the week, month, quarter, etc. is very easy with this amazing cloud-based app. With the assistance of Trello, I have been able to plan my marketing strategies, social media use, and video/photography for my colleagues. Color-coded cards and backgrounds appeal to me because I am also a visual learner.
Cons:
It's interesting that Trello works better for some people than it does for me, even though I've collaborated with people who use it, and they raving about it. Trello's organization in rows and cards does not easily translate to my mind, even though it's very simple to use and very powerful. My brain finds it much easier to follow my own filing system outside of work, this is why I have made one by myself.
Legal Services, 10,000+ Employees
Used the Software for: 2+ years
Unduly cumbersome for me but great for teams
Comments: I will continue to use Trello when it is being used by other members of a team in a long-term group assignment, but it is not something that I would likely recommend.
Pros:
I am not a find of Trello as it does not mesh with my workflow. My works involves limited involvement with team members and I believe that is where Trello excels. I need a task management program better suited to managing a large number of unrelated short term assignments. That said, when I have been involved with long term projects involving multiple team members working on interrelated components, Trello has been great at keeping on eye on the progress that other individuals and teams have made in order to coordinate future scheduling.
Cons:
In sum, I just found it poorly designed for managing non-group tasks. I preferred a more text based approach with discrete subtasks, and found Trello not well designed for this,
Ernesto E.
Lead Designer in UK
Arts & Crafts, 2-10 Employees
Used the Software for: 2+ years
Alternatives Considered:
Trello Review
Comments: I've been using Trello now for over 2 years and have fully integrated this software until business as usual. It helps with project managememt and collaborating internally and with our customers.
Pros:
Having tried several varied project management softwares over the years Trello is not only the easiest to use but is so user friendly that anyone can start using from day one and within days will be an expert on its use. It's also free which is amazing.
Cons:
Maybe adding an option to change view styles would be an added extra worth having
Verified Reviewer
Sales in US
Verified LinkedIn User
Online Media, 2-10 Employees
Used the Software for: 2+ years
Great for intuitive and simple project management or as a CRM for sales
Comments: Overall experience is very good and fun to use with a great UI and no bloat. It works best as a lightweight CRM and as a project management software.
Pros:
I like how easy and intuitive Trello is for project and idea management as well as the fact there is a native computer app for Mac and PC. It has a good balance of features without bloat. Search and sorting is very easy as it the UI. It is delightful to use.
Cons:
For the needs I had there are no features that are missing or any features I disliked.